Ghana's number one selling beer – Club Beer, continues on the path of product quality and innovation whilst remaining true to its desire of bringing people together with the "One Ghana One CLUB" campaign and national promotion which launched on 21 October 2019.
The "One Ghana, One CLUB" campaign highlights CLUB's position as the preserver and protector of Ghanaian culture and friendships whilst promoting the spirit of togetherness to celebrate the two things we have always cherished across generations; Ghana and CLUB Premium Lager, which has been Our Pride since 1931.
To share in this celebration with Charlies, CLUB Beer, will spark this all-exciting patriotic campaign and promotion with an experiential launch at the Black Star Square, an iconic landmark in Ghana's history which resonates with the milestone of a new, modern and refreshed label design also to be unveiled at the same event. The new label features the colours of the Ghana flag bordered by gold, resting on an intricate pattern delivering its rich colours that signify the coming together of elements to celebrate and highlight Ghanaian passion, quality and craftsmanship. Our refreshed packaging is also a dedication to young vibrant Ghanaians, proud of their roots and looking to the future whilst anchored in their desire to spending more enriching times with their friends.
The nationwide promotion which continues until 31 December 2019, will give away more than One Million Ghana Cedis (GHS1,000,000.00) in prizes. Consumers stand the chance of winning airtime, mobile money and an ultimate weekly prize of Five Thousand Ghana Cedis (GHS5,000.00) when they text the 8-digit code under the crown of any CLUB 625ml (Large) bottle to short code 1931. The text to short code 1931 is free across all networks. As is tradition, an image of a bottle of beer under the crown qualifies a consumer to a free CLUB Beer instantly.
"CLUB Beer through this campaign, highlights its position as a national treasure" said Shaun Raposo, Country Director of Accra Brewery Limited.
"CLUB Beer is both unique and ever-present at the same time. It is the perfect social complement to many of life's occasions – an ever present friend across generations and occasions. 'One Ghana One CLUB' reminds us of the things we are most passionate about: Ghana and CLUB" said Ewurafua Addo-Atuah, Marketing Head of Accra Brewery Limited.
The campaign and national promotion will also be used to crown all of CLUB's activations over the year from Original Ghana Festivals, CLUB Live and the novel CLUB 5on5 football tournament, which brought Charlies across Ghana together with the winning teams representing Ghana at the continental games in Tanzania.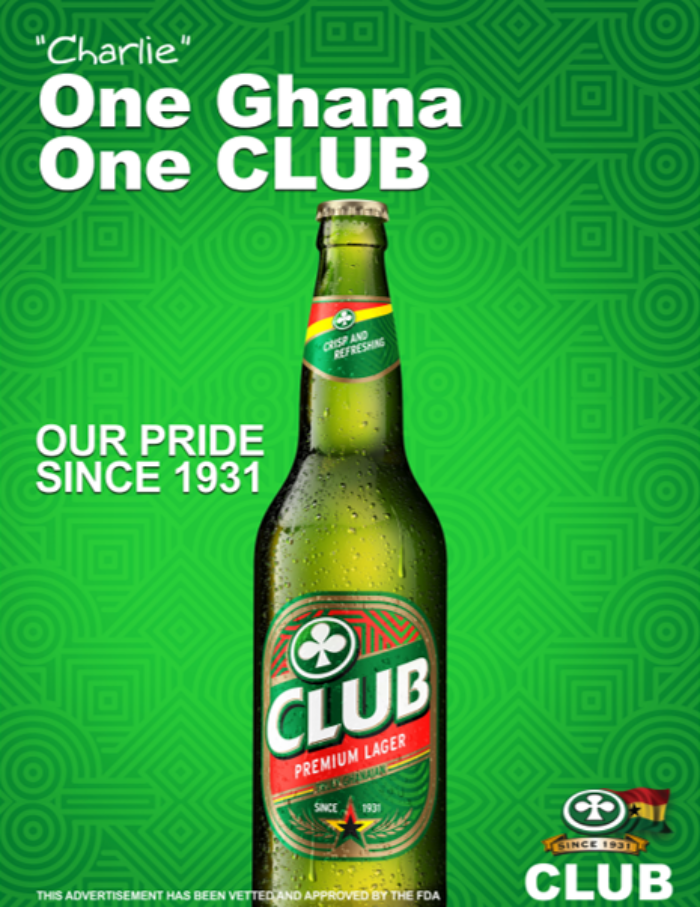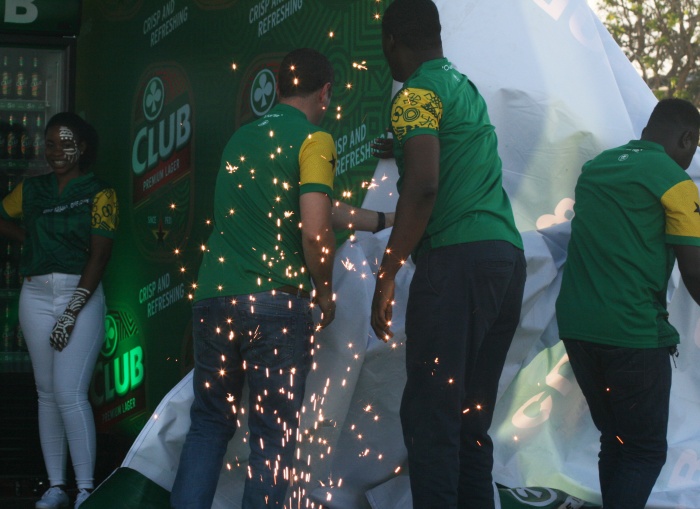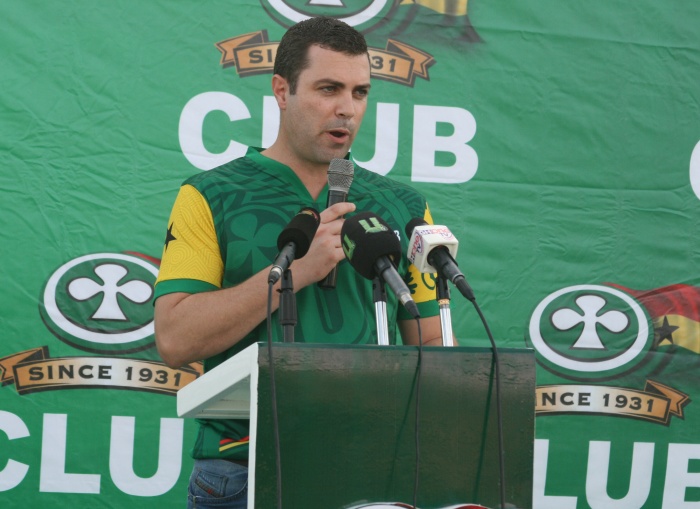 About Accra Brewery Limited (A proud part of the ABInBev family)
Accra Brewery Limited (ABL) was established in 1931 as Overseas Breweries Limited.  We became known as Accra Brewery Limited in 1975 and a subsidiary of SABMiller in 1997.  Now, we are a proud part of Anheuser-Busch InBev (ABInBev), the world's largest brewer.
We have delighted Ghanaians with the best quality and great-tasting beverages since 1931.  Today, our offerings comprise of CLUB Premium Lager, our flagship brand; Eagle Lager, Eagle Extra Stout, CLUB Shandy Bͻsoԑ, Castle Milk Stout, Stella Artois, Budweiser; and Beta Malt, our non-alcoholic malt brand.
Our Dream is to bring people together for a better world. To achieve this Dream, we invest in a Growing World where everyone has the opportunity to improve their livelihood; a Cleaner World where our natural resources are shared and preserved for the future; and a Healthier World where every experience with beer is positive.
About Anheuser-Busch InBev
Anheuser-Busch InBev is a publicly traded company (Euronext: ABI) based in Leuven, Belgium, with secondary listings on the Mexico (MEXBOL: ANB) and South Africa (JSE: ANH) stock exchanges and with American Depositary Receipts on the New York Stock Exchange (NYSE: BUD).  Our Dream is to bring people together for a better world.  Beer, the original social network, has been bringing people together for thousands of years.  We are committed to building great brands that stand the test of time and to brewing the best beers using the finest natural ingredients.  Our diverse portfolio of well over 400 beer brands includes global brands Budweiser®, Corona® and Stella Artois®; multi-country brands Beck's®, Castle®, Castle Lite®, Hoegaarden® and Leffe®; and local champions such as Aguila®, Antarctica®, Bud Light®, Brahma®, Cass®, Chernigivske®, Cristal®, Harbin®, Jupiler®, Klinskoye®, Michelob Ultra®, Modelo Especial®, Quilmes®, Victoria®, Sedrin®, Sibirskaya Korona® and Skol®.  Our brewing heritage dates back more than 600 years, spanning continents and generations.  From our European roots at the Den Hoorn brewery in Leuven, Belgium, the pioneering spirit of the Anheuser & Co brewery in St. Louis, US, the creation of the Castle Brewery in South Africa during the Johannesburg gold rush, to Bohemia, the first brewery in Brazil.  Geographically diversified with a balanced exposure to developed and developing markets, we leverage the collective strengths of approximately 200,000 employees based in more than 50 countries worldwide. In 2015, on a combined pro forma basis, AB InBev realized 55.5 billion US dollar in revenues (excluding JVs and associates).
Visit us @ www.ab-inbev.com.
Like us @ www.facebook.com/abinbev.
Follow us @ twitter.com/abinbevnews