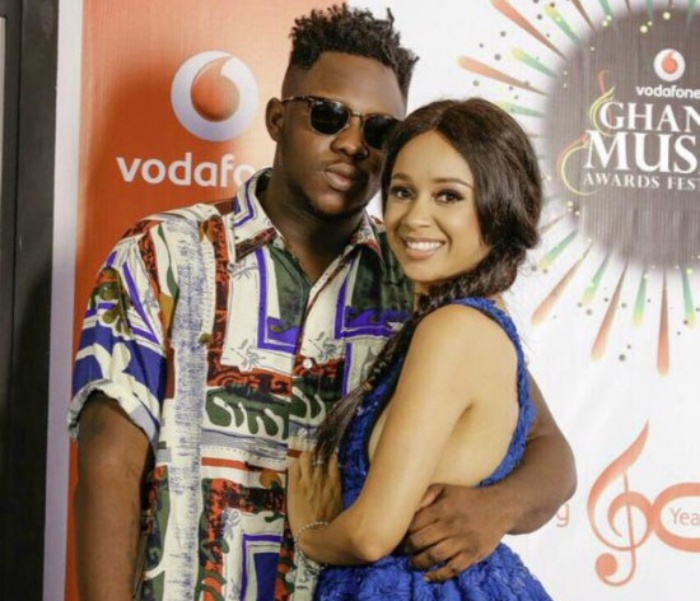 Criticisms over the 8 years age difference between them, has not Rapper Medikal and his lover Deborah Vanessa in anyway.
The "Too Risky" Rapper has revealed that he is very much in love with musician, Deborah Vanessa, and wants to spend the rest of his life with her.
This is because in addition to the love they have for each other, they gel very well and have a lot of things in common.
The couple who have been dating about a year now have some times 'come under fire' because Deborah Vanessa aka Sister Derby is about 10 years older than the Too Risky singer.
But the 2017 VGMA nominee told Showbiz in an interview on Monday that the Uncle Obama singer means a lot to him and that age is nothing but a number.
" I have heard a lot of negative comments about the two of us but we are mature enough to know what we want. We understand each other. We are great together and we have plans to marry soon," he said.
According to Medikal, age is not a deterrent when it comes to love adding that once there is understanding, respect, love and transparency, a couple can survive the test of time.
"Moreover, Sister Derby is smart, truthful, talented, beautiful and a wife material", he added.
Although the two have had their own misunderstandings just like any couple in a romantic relationship, Medikal said that they are able to settle their issues as soon as they crop up.
"It is amazing how we are able to solve our issues without letting it known to the third party. We are soulmates, hence, the reason we click," he said.
When it was pointed out to him that they might be carrying on with their relationship as a publicity stunt, this is what Medikal, real name, Samuel Adu Frimpong said, "We are not doing this for attention, all I know is Derby loves me and I also love her with all my heart. Very soon, Ghanaians will know that we were not kidding when we said we were in love."
Touching on how it all started, Medikal said he is a big fan of Derby and when he got the chance to meet her, they exchanged phone numbers.
"After that, we started talking and realized we had loads of stuff in common so we decided to take our relationship from the friendship zone", he said.
Moving away from his love life, Medikal said he is set to launch his maiden album, Disturbation on Saturday, July 1, at Westhills Mall.
He said the 22- track album recorded by Uncle Beat features musicians such as Stonebwoy, Pappy Kojo, Sister Derby, Wanlove, Lil Shaker, Criss Waddle, Shatta Wale and Efya.