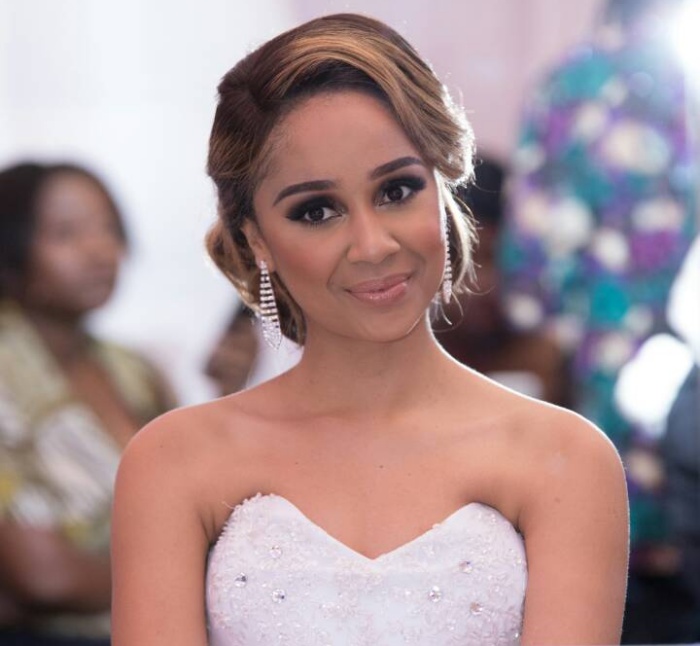 Television Presenter/Model – Deborah Vanessa has finally walked down the aisle with her Rapper boyfriend Medikal, if pictures available to
Nkonkonsa.com
is anything to go by.
Breathtaking images of the "Uncle Obama" hit maker in a wedding gown has been hit the internet and Sister Derbie's comments somewhat suggests that she has finally said "I do".
Deborah Vanessa has shared three photos with different captions suggesting she has settled down with her boyfriend.
"Whoever invented marriage was creepy as hell. Like, hey you, I love you so much, I'm gonna get the government involved so you can't leave."
"The longest sentence you can form with two words is: I do."
"He stole my heart so I am planning revenge… I am going to take his last name."
Sister Deborah confirmed in July 2016 that indeed, both are entangled in a love web and nothing can separate that. She disclosed this on Rythmz on GhOne TV with Berla Mundi.
"Medikal and I have been dating for two weeks, and it is really a serious one. The truth is, if he should pop the 'will you marry me question', I will not hesitate to say yes."
According to her, a lot of people are not happy with the choice she has made about who has the key to unlocking her emotional box.
"A lot of people are not happy about my choice, I mean I have heard distasteful comments ever since rumours about our relationship got to people," she said.
With regards to why she is confident in letting the whole world know about their relationship, she said; "honestly, Medikal started it, he is the reason it got to the public, and that is why I also have the confident to accept and boldly say it."
See more photos below: