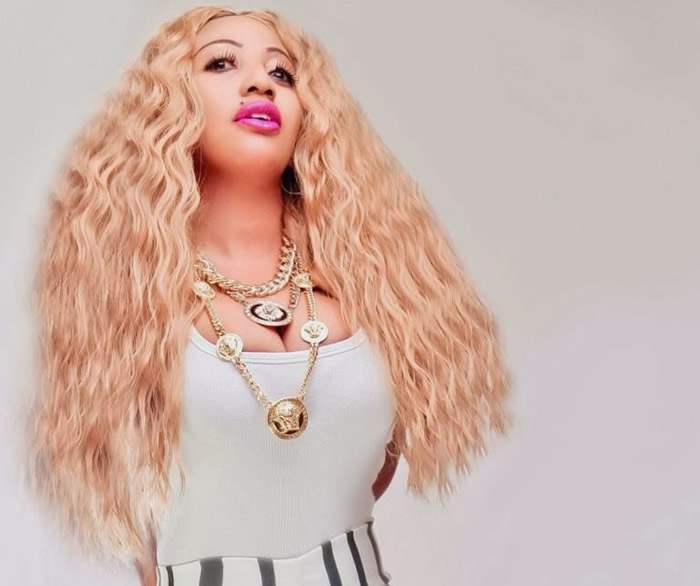 Actress Diamond Appiah has slammed all those who campaigned against beauty company Nivea's fairness body lotion billboards in Ghana.
Diamond, who is obviously in disagreement with the likes of Fuse ODG, Reggie Rockstone, Ama K. Abebrese and others who campaigned against the product, said all those who supported the #PULLITDOWNNOW campaign are ignorant.
In a lengthy post on social media, Diamond they should  not jubilate because replacing the billboards hasn't really changed anything.
Last week, there was a campaign on social media to get billboards of "Visibly fairer skin" Nivea products pulled down.
By Saturday October 21 2017, the company succumbed to the pressure and pulled down all the billboards and replaced them with different ones.
Diamond thinks Ghanaians calling for them to be pulled down are just villagers. In a post after the billboards were pulled down, she indicated that the company could not stand the bush lifestyle of Ghanaians and had to pull down the billboard in order to avoid problems.
Read her post here:
"Those saying Nivea pulled the add bcos the products was a skin bleaching products should take several back seats with their ignorance. The company only succumbed to the pressure coming from a bunch of insecured dark skin Ghanaians who find anything for the light skin minority offensive.
(They couldn't deal with your Nkurasesem ) Y'all think in your ignorant heads that u have won the argument but seriously u have wasted your time, productive hours n data for nothing bcos the billboards being pulled down didn't add or subtract anything to.ur life or wallet.
Neither did the products disappear from the shelves where is being sold. The company is still selling n making billions whiles ur actually jubilating over nothing. Why do dark skin folks feel they need to enforce their skin choice on everyone. If you find adds for the fair offensive speak for yourself n not for all Ghanaians Bcos at the end of the day it is this same dark insecure Ghanaians who bleach to became fairer. Never seen a light skin girl who want to use products to make her dark.
It is these same dark skin folks who always scream and make noise in our ears with their black skin is beautiful notion posting pictures of women like Lupita Nyongo to portray their insecurities when the reality of the matter is that even a light skin African is still a Black person n true beauty has got nothing to do with ones skin tone but wot comes from within.
So cut all the black is beautiful self pity crap n appreciate every skin tone Bcos we were all not born to look like "Lupita Nyongo" Abortion kills, Cigarette Kills, local Gin Kills but bleaching hasn't killed anyone to my knowledge n neither has Cosmetics. Give us a break n Fight what is really harmful to the society .#Nivea doesn't bleach #Stop being Ignorant #Stop disgracing mother Ghana".
Source: NKONKONSA.com