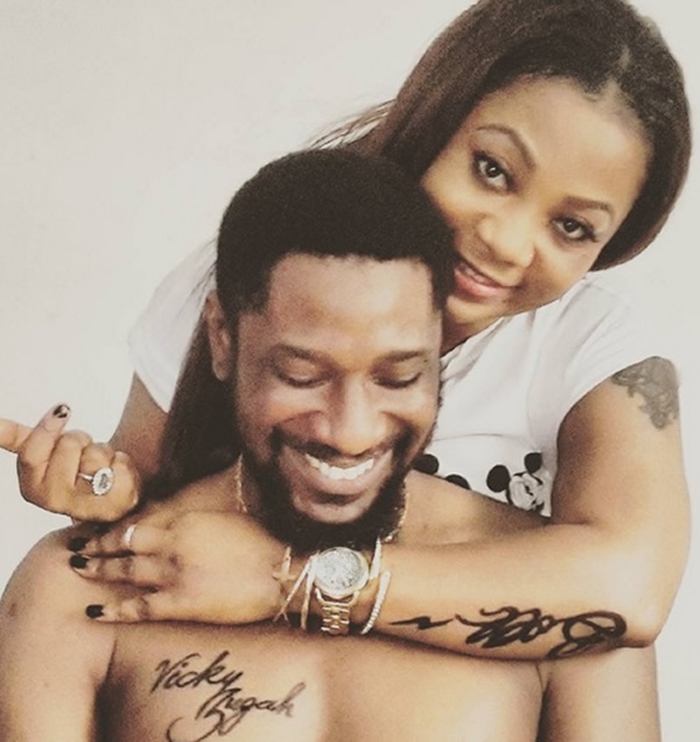 Sierra Leonean Big Brother Africa star – Adrian Bolt Lewis who is engaged to Ghanaian Actress Vicky Zugah, has reportedly jilted her and returned to his country.
According to sources Bolt has left Vicky and their son in Ghana without a word and it doesn't look like he has any intentions of returning to his family.
Actor Johannes Maier who happens to be friends with both Vicky and Bolt has confirmed the news and he is asking his friend, actress Vicky Zugah, to forget about her Sierra Leonean lover, Big Brother Africa star Adrian Bolt Lewis.
Bolt and actress Vicky Zugah got engaged last year, and were blessed with a son they christened Andre.
From pictures that surfaced online, Bolt was missing at the naming ceremony of Andre. It was rumoured that veteran actor Abeiku Sagoe had to step in to fill the void.
Vicky met the 'love of her life', Bolt when he visited his childhood friend Maier here in Ghana. However, Maier told Joy News' MzGee that he cautioned his friend (Vicky) but she was blinded by her love for Bolt.
"My friend (Bolt) is messed up. I told her to take her time. I am in a very bad position right now because both of them are my friends, what will I do? I know my friend was f..k up and she was a darling, she is a darling, she's always been a darling but you can't beat love, they were in love, what should I do, I'd be the bad one," he said.
Is Bolt coming back to his family (Vicky and Andre) anytime soon? Maier was unable to tell, neither was he able to confirm rumours that Bolt was married back home in Sierra Leone.
He made an appeal to Bolt to return for the sake of their son.
Watch Johannes Maier's interview below: