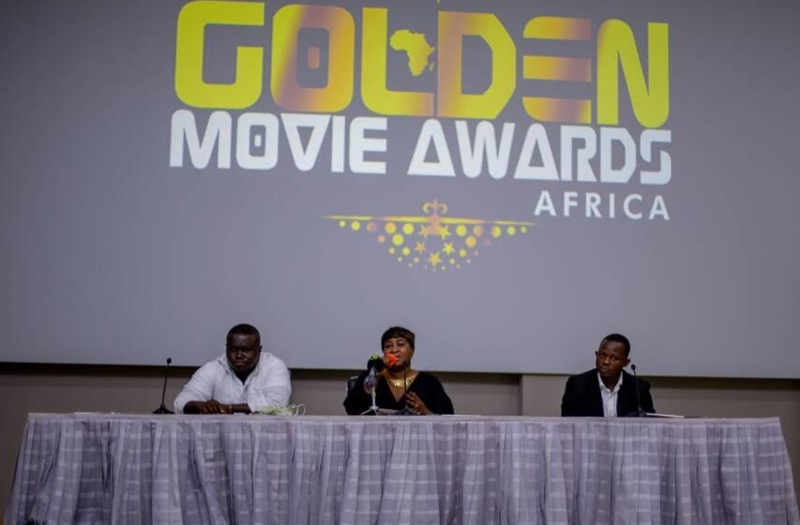 NMJ Ghana, organisers of the Golden Movie Awards Africa (GMAA), have announced nominees for the 2017 edition of the awards at an event held at the Ibis Styles Hotel in Accra last Thursday June 22nd 2017.
In an address before the announcement of the list, the Director of the Golden Movie Awards Africa, Mimi Andani commended the jury led by Ghanaian veteran actress Grace Omaboe for a great work done. "The work given to the jury had been done and that it is time to let the public know which movies as well as actors and actresses will be nominated for which category," she said.
"It has been almost a month of very careful and great well done by the jury and they have come out with a list of nominees that we would like to share with the public."
Mimi Andani announced that "the GMAA has entered into partnership with pan-continental television content management company African Movie Channel (AMC) to broadcast this year's GMAA on multiple channels in 17 African countries and some European countries.
"Some of the African countries in which the content will be broadcast are Kenya, Nigeria, Tanzania, Uganda, Malawi, Rwanda, South Africa, Zambia, Burundi, Ghana, Mozambique, Sierra Leone, Ivory Coast, Congo DRC, Congo Brazzaville and Zimbabwe. The European countries include The UK, France, Germany, and The Netherlands.
"Obviously, we are very excited about this partnership with AMC as it affords us the opportunity to send out content to many viewers across the continent."
She mentioned that the organisers were working towards producing a great show on 22nd July when the final event of GMAA takes place. "We have taken feedback from the previous event in good faith and although we had a great show last year, we intend to make it an even a greater show this year. Our event production partners E-volution International have assured us of a great show that all our guests would love," she assured.
She announced the ambassadors of the 2017 GMAA as Ghanaian actress Nadia Buari, Nigerian actress Lilian Esoro and Ghanaian/Greek actress Nikki Samonas. "We believe that this three gorgeous and very talented actresses have what it takes to bring home the objective of the GMAA and to anchor the theme for the 2017 event "Empowering the African Filmmaker" very well
In a short address, the Jury President, Madam Grace Omaboe thanked her fellow jury members and appealed to the film industry to accept the list of nominees as they had word hard to ensure that those who deserved to be were nominated. She also appealed to the government to help save the film industry through very strong legislation.
Find below the list of nominees for the 2017
GOLDEN MOVIE AWARDS AFRICA
LIST OF NOMINEES FOR THE 2017 EDITION
GOLDEN ACTOR (COMEDY)
NOMINEES
1. Ayo Makun (A Trip To Jamaica)
2. Richard Asante (Amakye & Dde)
3. Majid Michel (Amakye & Dede)
GOLDEN ACTOR (DRAMA)
NOMINEES
1. O.C Ukeye (Catch.ER)
2. Eddie Watson (3 Is A Crowd)
3. Chris Okagbue (Lotanna)
4. Sambasa Nzeribe (Slow Country)
5. 5. Enyinna Nwigwe (Hire A Man)
6. Femi Jacob (Just Married)
GOLDEN ACTOR (SERIES)
NOMINEES
1. Jordan Adgualor (The Idiot And I)
2. Adjetey Annang (Table Of Men)
3. Lirotha Mcdonald (Samba)
4. James Gadner (Everyday People)
5. John Peasah (Yolo)
6. Kweku Elliot (Everyday People)
GOLDEN ACTRESS (COMEDY)
NOMINEES
1. Priscilla Agyeman (Amakye & Dede)
2. Funke Akindele (Trip To Jamaica)
3. Zynell Zuh ( Hire A Man )
4. Lydia Forson (Keteke)
GOLDEN ACTRESS ( DRAMA )
NOMINEES
1. Kalsum Sinare (Sala)
2. Beverly Naya (Catch.ER)
3. Ivie Okujaye (Slow Country)
4. Adesua Etomi (Ayama)
5. Zynell Zuh (Just Married)
GOLDEN ACTRESS (SERIES)
NOMINEES
1. Naa Ashorkor (Table Of Men)
2. Ade Kelly (Samba)
3. Judith Asante (Sunshine Avenue)
4. Gloria Sarfo (Living With Trisha)
5. Ivy Adjima (Yolo)
6. Jessica Williams (Table Of Men)
GOLDEN ART DIRECTOR
NOMINEES
1. Toca Macbaror (Lotanna)
2. Quist & Twedie (Keteke)
3. Behind The Wheels
4. Slow Country
GOLDEN CENIMATOGRAPHY
NOMINEES
1. Kelly Doe (Keteke)
2. Kelly Doe (Amakye & Dede)
3. Robert Peter (A Trip To Jamaica)
4. Toca Macbaror (Lotanna)
5. Tom Robson (3 Is A Crowd)
GOLDEN COSTUMIER
NOMINEES
1. Samba
2. 3 Is A Crowd
3. Lotanna
4. Keteke
GOLDEN DIRECTOR
NOMINEES
1. Toca Macbaror (Lotanna)
2. Desmond Elliot (3 Is A Crowd)
3. Kobi Rana (Sala)
4. Robert Peter (A Trip To Jamaica)
5. Kofi Asamoah (Amakye & Dede)
GOLDEN DISCOVERY ACTOR/ACTRESS
NOMINEES
1. Hauwa Allahbura (3 Is A Crowd)
2. Emman Sinare (Sala)
3. Nancy Isime (Hire A Man)
4. Jessica Larny (Everyday People)
5. Paula Obaseke (Reverse)
GOLDEN EDITOR
NOMINEES
1. Laurenne Abdullah & Peter Sedufia (Keteke)
2. Toca Macbaror (Lotanna)
3. Tunde & Patrick (A Trip To Jamaica)
4. Afra Marley & Peter (Sala)
5. Kofi Asamoah (Amakye & Dede)
GOLDEN INDIGENOUS
NOMINEES
1. Utopia
2. Daggers Of Life
3. Perfect Love
GOLDEN MAKEUP
NOMIEES
1. Sala
2. Lotanna
3. Slow Country
4. Ayama
5. Trip To Jamaica
GOLDEN MAKEUP ARTIST
NOMINEES
1. Emeka Lam (Lotanna)
2. Sandra & Hakim (Slow Country)
3. Sandra (Amakye & Dede)
4. Divine Page (Trip To Jamaica)
GOLDEN MOST PROMIMISING ACTOR/ACTRESS
NOMINEES
1. Hauwa Allahbura (3 Is A Crowd)
2. Emman Sinare (Sala)
3. Nancy Isime (Hire A Man)
4. Jessica Williams (The Devil Between My Legs)
5. Jessica Larny (Everyday People)
GOLDEN MOVIE COMEDY
NOMINEES
1. Keteke
2. Amakye & Dede
3. A Trip To Jamaica
4. Hire A Man
GOLDEN MOVIE
NOMINEES
1. (3 Is A Crowd)
2. Sala
3. Lotanna
4. A Trip To Jamaica
5. Ayamma
GOLDEN SHORT FILM
NOMINEES
1. Ivieme
2. Running
3. Bitter Sweet Wine
4. Dabara
5. Broken
GOLDEN SOUND
NOMINEES
1. Lotanna
2. Trip To Jamaica
3. Sala
4. Keteke
GLODEN STORY (DRAMA)
NOMINEES
1. Catch.ER
2. Sala
3. (3 Is A Crowd)
4. Slow Country
GOLDEN SUPPORTING ACTOR (COMEDY)
NOMINEES
1. Majid Michel (Amakye & Dede)
2. Ike Ogbona (Hire A Man)
3. Dan Davies (A Trip To Jamaica)
4. John Dumelo (Amakye & Dede)
GOLDEN SUPPORTING ACTOR ( DRAMA )
NOMINEES
1. Victor Deker (Lotanna)
2. Fred Amugi (Sala)
3. Desmond Elliot (3 Is A Crowd)
4. Wale Ojo ( Ayama)
5. Blossom Chukwujekwu (Catch.ER)
GOLDEN SUPPORTING ACTRESS ( COMEDY )
NOMINEES
1. Nse Ikpe Etim (Trip To Jamaica)
2. Shaffy Bello (Hire A Man)
3. Roslyn Ngissah (Amakye & Dede)
4. Nancy Isime (Hire A Man)
GOLDEN SUPPORTING ACTRESS ( DRAMA )
NOMINEES
1. Emman Sinare (Sala)
2. Liz Benson (3 Is A Crowd)
3. Hauwa Allahbura (Reverse)
4. Jackie Appiah (Sala)
GOLDEN TV SERIES
NOMINEES
1. Samba
2. Table Of Men
3. Sunshine Avenue
4. Yolo
5. The Idiot And I
GOLDEN WRITER COMEDY
NOMINEES
1. Peter Sedufia (Keteke)
2. Ayo Makun (Trip To Jamaica)
3. Kofi Asamoh (Amakye & Dede)
4. Writers Ink (Hire A Man)
GOLDEN WRITER DRAMA
NOMINEES
1. Koby Rana (Sala)
2. Tunde Apalawo (Catcher.ER)
3. 3 Kemi Adesoye (Lotanna)
4. Vivien Chiji (3 Is A Crowd)
5. Vivien Chiji (Ayama)