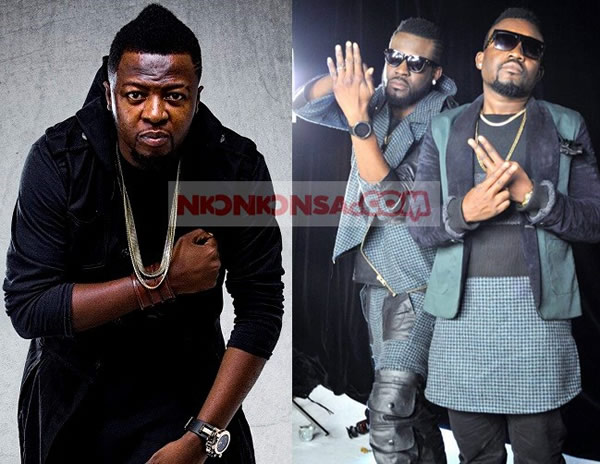 Rapper Guru has reacted to allegations by Ghanaian Afro-Pop duo Ruff N Smooth that he (Guru) performed their song "Send Your Fire" in Gabon even though they had asked Guru not to perform the song.
The "Pooley" Rapper apologized to Ruff and Smooth; indicating that the performance was a mistake from the DJ.
Read Guru's statement below:
We went to Gabon to perform at the Gabon Le Grand Concert on the 12th of September which by the grace of God, Guru as usual gave a splendid performance.
And will like to make it clear that it was never ever in our plans to perform the song Guru had with Ruff and Smooth and we had more than enough songs to perform for the whole event. What really happened was our Disc jockey due to some problems he had we his documents couldn't go with us so we had to employ the services of a DJ in Gabon.
We met with the Disc jockey hours before the performance and gave him a list of songs Guru was going to perform and arranged them accordingly. We didn't add the song "send your fire" to the playlist even though the song was a popular song in Gabon and as result of Guru's slogan "See you baby", the populace generally thought it belongs to him.
On the night of the event, as evidently seen in the videos which we will soon release in full, Guru gave a historic performance with his songs back to back, but at the end for some indistinct reasons the Dj dropped the Send your firetrack after Guru's last song for the night.
We knew Guru was almost done with his performance so we were preparing the exit for him with the security, before we could run to stop the DJ, he had already started playing the song whiles Guru was on stage and he had no choice than to perform the song.
And at the end Guru told the crowd to watch out for Ruff and Smooth who will be there very soon.
Guru never had plans to perform the song and he never performed it three times as bullet of ruff and smooth claimed. We will like to say once again that the song being played was not in our plans and was out of control and we like to apologize to anyone who has been affected for the song being performed.
Finally, we expected Ruff and smooth to contact us to make known their displeasure and grievances in order for issues to be resolved but not to make certain allegation to dent Guru and his career. We know a lot has been said, but this was what happened in Gabon.
It looks like some people have wrong perceptions about my silence on issues arising. I have never responded to any issue so far not because they are true or I have nothing to say. But it's because most of the time management stops me from doing so or we realize the devilish intent behind the accusation so we pay no attention to them.
But for people I call brothers who I have walked with and to accuse me wrongly with the aim of tarnishing my image and career before the right thinking members will be the last thing I will entertain. With what happened in Gabon I guess my management have explained the true turn of events and I have to make this clear to the whole world that I had no intention of performing the "send your fire" track which I featured on, and wasn't expecting it to follow my last song on stage, but I was on stage and caught in the moment so had to perform it for the crowd but it was never my plan to."
Secondly, I never insulted Bullet when he contacted me on Whatsapp which he claimed on Pluzz Fm AM rise and here is the proof. I respect Ruff and smooth a lot as artists and a friend, but I guess once intention are known when you have a problem with them.
I want to thank the people of Gabon for the love and support and promise to return very soon. And talking about my works, I just released a video to my single "Baba God" a couple weeks ago which is doing very well and as soon I touch down in Ghana am dropping a video to my single "Epic". I want my fans and the whole world to know we just getting started so they should expect more hitz."
Source: NKONKONSA.com