Reggie Rockstone the Ghanaian rapper who touts himself as the founder of Hiplife in Ghana has revealed that he almost recorded a diss song for BET award winning Ghanaian rapper, Sarkodie.
The Hiplife papa as he's affectionate claimed on his Twitter page that Sarkodie dropped a line about him in a song years back which offended some of his friends and they persuaded him to retaliate.
Reggie tagged that line as 'innocent' and 'humorous' in the new post he shared on Twitter but his friends who never saw that from their point of view asked him to hit the studios to drop a reply which he nearly did but pulled out in retrospect.
Here's what Reggie posted;
"BAD ADVICE CAN BE DEADLY IF U DO NOT THINK SHIT THRU! I WAS THIS CLOSE TO PUTTING OUT A DISS RECORD TO @sarkodie COS I LISTENED TO SUM MY PADEEZ SMH!
HE DROPPED AN INNOCENT HUMOROUS LINE ABOUT LENDING ME MONEY AND MY FRIENDS CAME IN MY EAR WITH MUCH SMH CAN U IMAGINE?? #DED"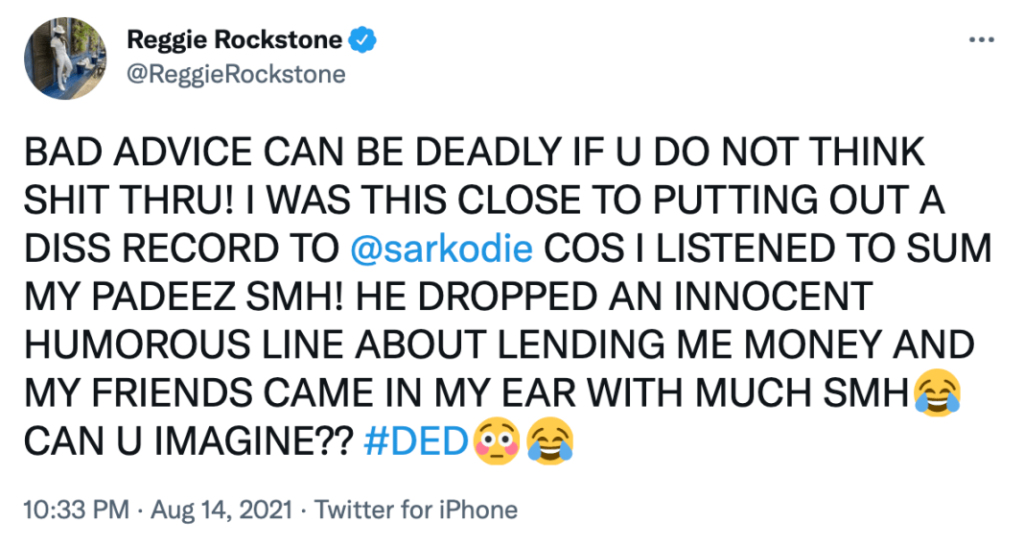 Source;NKONKONSA.com