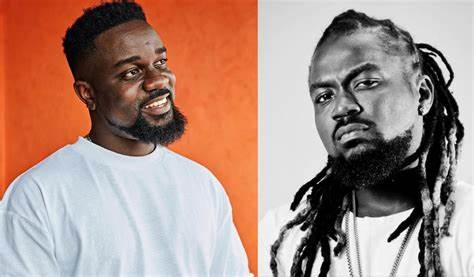 Reggae and Dancehall singer, Samini has criticized rapper Sarkodie for not returning his calls.
Samini claims that Sarkodie has not treated him fairly by repeatedly rejecting his offers and texts without providing an explanation.
Samini demanded on Twitter that Sarkodie apologize to him before he would agree to collaborate with him on any other projects.
He continued by saying that despite numerous offers of cooperation, Sarkodie has consistently rejected the idea of collaborating with him.
"I got nothing against @sarkodie and he knows it. He also knows that he Dey owe me personal apology for the blue ticks after having me send 3 tracks and he choosing 1. After asking me if it was a single or an album to which I answered it's an EP. He's like coo he's yet to respond."
Samini said he would never pay to acquire a feature with Sarkodie and that he wouldn't kneel to him in exchange for a favor when urged to contact him in a different way.
"As if he got love rocks through management…. Smdh. Some of y'all tho eno be all English be sense ooo. I should pay sark for a verse after doing one for free under 24 hours. My name is SAMINI.. Don't act like you forgot."
Samini added that he was frustrated by Sarkodie's lack of care for him and his inability to see why he was "flexing" him.
You are not reading. I said I'd not do a track with him and my reasons are spelt out. It's not like I want the track now and he's flexing ooo. It's long gone but had to let folks know how shit is fucked up low key in our industry. If that Makes you feel a way that's on you.
NKONKONSA.com