Actress and movie producer, Kafui Danku reveals that its hurts when she hears about how some people receive only ₵600 as their monthly salary.
Her revelation comes after actor and politician John Dumelo revealed it has come to his knowledge that some people take the aforementioned meagre salary in a post he shared online.
According to the mother of one,  it's disheartening to hear something like that because she pays her workers a whopping ₵300 on daily basis.
She posted, "I feel like crying …. honestly few people said I cry about unnecessary things but this guy's positive attitude touched me. Every now and then I support some young people following me financially…. Some of them have become friends. Most of them are doing their best but it looks like they're getting nowhere …"
"How can big companies be paying these hard workers 20 GHc daily. I don't want to know the cost of the production whatever but compensate them well. The least I paid on my recent production is 300 GHc daily. A struggling industry, a small business yet thinking of people. Why would a tomato paste company be nicking and diming workers?
"The guy sent me a video and I can imagine the stress already. I'm sad and heartbroken. People are really suffering, I can't survive that day. I'll cry and pack up to my mother's house, so I truly admire these determined guys making an honest living. Make it worth their while. How much is the cost of trotro from Afienya to Accra?
"Be humane, compensate them well. He sent me a touching message this morning " The strong shall survive" which almost sent me to tears. Lord, grant their special requests, desires, and prayers this year in Jesus' name."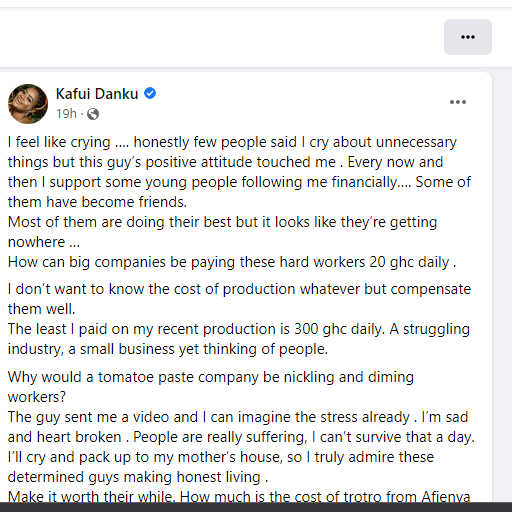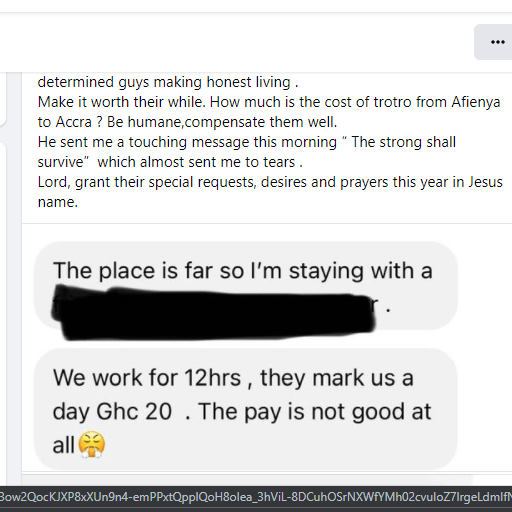 Source:NKONKONSA.com