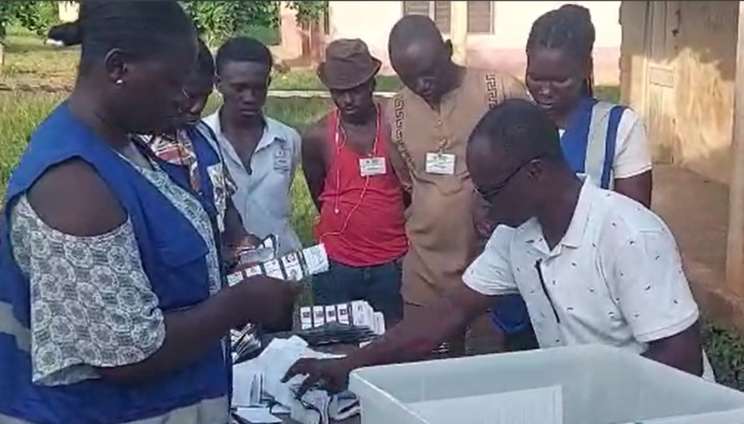 Provisional results from the ongoing by-election in Kumawu, Ashanti region show the New Patriotic Party candidate, Ernest Yaw Anim is garnering more votes than his competitors.
Counting of ballots is underway from the 75 polling centres ahead of collation after voting ended at 5pm.
The National Democratic Congress' candidate, Kwasi Amankwaa and the two independent candidates are trailing.
The polls so far have been largely peaceful, watched by a heavy police presence, with the NPP and NDC deploying high-level officials as polling officials. Kumawu has 34,800 registered voters, however poll watchers say turnout in by-elections are generally below par.
The NDC has vowed to wrest the seat, made vacant following the death of the NPP's Philip Basoah, from the NPP which has always won it since 2000.
Already supporters of the NPP and its candidate are on the streets in wild jubilation.
There were pockets of disagreements, while turnout was a bit low, according to Luv FM's Ohemeng Tawiah, who says, however, that the polls were generally peaceful.
LA JHS Sekyere Mission
Npp 252
NDC 122
Indep 8
2nd Independent  0
Rejected ballot 2
Methodist Polling Station 1 Kumawu
Ernest Anim NPP       150
Amankwaa   NDC        17
Kwaku Duah 1             23
Kwaku Dua 2                 0
Rejected                         0
Total votes cast            190
Registered voters        269
Methodist Church 2 Kumawu
Ernest Anim       NPP   131
Kwasi Amankwaa NDC  17
Kwaku Duah    1            17
Kwaku Duah    2          0
Rejected                      0
Total  votes              165
Total  Registered     228
Savior Mission, Abotanso
NPP – 109
NDC – 71
IND(1) – 2
IND(2) – 1
Total votes cast – 183
SAVIOUR MISSION TETIABAN
1. NPP = 109
2. NDC =71
3.  K D =2
4. K D = 1
Total vote casted🟰 184
Rejected = 0
Spoilt = 0
YAADWASO KUMAWU F361304
NPP: 144
NDC: 16
IND: 60
IND: 1
REJECTED: 1
Sekyere Pentecost A.
Ernest Ayim = 850
NDC  = 30
Kwaku Duah Snr = 54
Kwaku Duah jnr    = 3
Papase 2 or B Polling station
Yaw Anim 150
NDC -23
K Duah 1- 107
K Duah 2- 0
Rejected -3
Apostolic Church Kumawu
NPP 165
NDC: 28
Independent 69
Rejected :3
PAPAASE KUMAWU 1
1. NPP =      152
2. NDC =        19
3.  Kwaku Duah(1) = 108
4. Kwaku Duah (2) =  0
Total vote casted🟰 281
Rejected =
Spoilt = 2
R.C PRIMARY SCHOOL  RESULTS
NUMBER OF REGISTER -499
NO OF VOTE CAST – 359
REJECTED BALLOTS – 4
No1 NPP – 274
No2 NDC : 24
No3 INDEPENDENT 1 : 57
No 4INDEPENDENT 2 : 0
Abenaso Methodist
Total vote cast – 248
Npp   –  160
Ndc   –   60
Kweku duah  – 20
Ind – 2
Rejected – 6
Kumawu Presbyterian School Polling Station
Ernest Anim –  249
Akwasi Amankwaah-  65
Kwaku Duah Senior – 59
Kwaku Duah Junior – 0
Rejected – 5
NKONKONSA.com