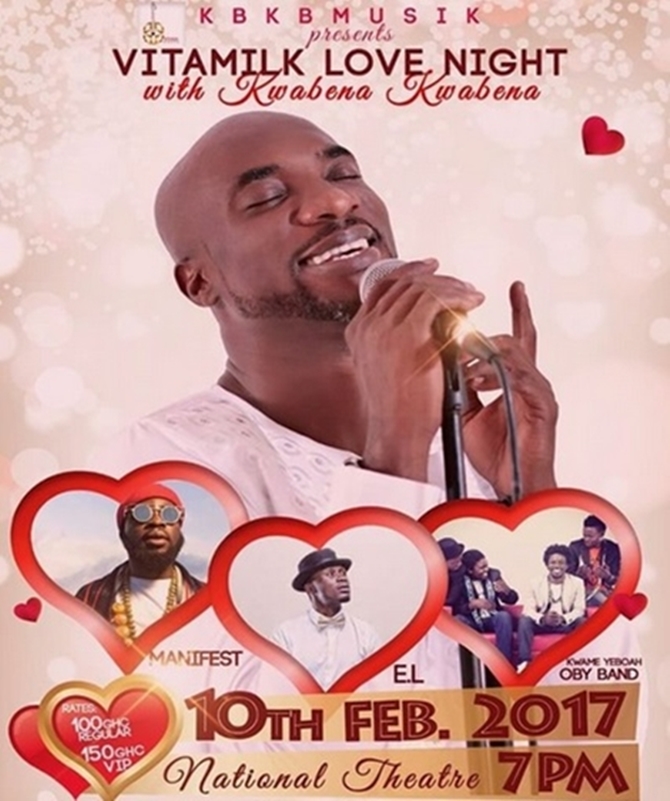 In spite of reports that Highlife Singer Kwabena Kwabena's 'Vitamilk Love Night' concert has been hit with a court injunction, management of the artiste is assuring the general public that there is no injunction on the concert as far as they are concern.
Speaking on the "Total Showbiz" segment on Okay FM's "Ekwansdwoodwoo drive time show, Frema Ashkar, manager of Kwabena Kwabena, insisted that all is set for the event to come on as scheduled on Friday February 10, 2017.
Frema has urged Ghanaians to disregard reports that there is an injunction on the 'Vitamilk Love Night' which comes off at the National Theatre.
"As far as Kwabena Kwabena's KBKB Music and his management Fab Links are concern, we don't know about any court injunction. The concert is coming on and nothing has changed. Nobody has put any injunction on the concert".
Frema explained that somebody made an illegal attempt but the police took care of him so everything is fine. "For us we don't know what is going on with any injunction," she explained.
According to Frema, a gentleman by name Gideon Kwamla Oyidzo known in showbiz as Jingles who is the Operations Director of ABBA Investment, misconduct himself on the premises of Metro TV when he tried to film her secretly at Metro TV but the security at Metro TV confronted him and had him apprehended at the Cantonment Police station.
Frema Ashkar also denied reports that her artiste is owing ABBA Investment GHS 180,000.00 for sponsorship and GHS 13,000.
"If there is any legal issue that will handled in court but as far as we are concerned Kwabena Kwabena is ready to perform for his fans in the month of love. The event comes off at the National Theatre tomorrow and tickets are out for GH100 regular and GH150 VIP at Koala, Baatsona Total, Airport Shell and Silverbird Cinemas so I would urge everyone to go out and get their tickets and let's have a good time on Friday", Frema insisted.
On Tuesday, news broke that an interlocutory injunction has been placed on the concert.
The injunction was sought by ABBA Investment, which had worked with Kwabena Kwabena to stage two editions of the concert – F14 Concert.
The Statement of Claim, sighted by Myjoyonline.com, read, "An order of perpetual injunction restraining Defendants, either by themselves, their agents, workmen, assigns or otherwise however described from organizing and holding a love concert using the concept of the Plaintiff and advertising the concert as if were another edition of F14 Concert."
The plaintiff is further demanding a "Recovery of sum of THIRTEEN THOUSAND GHANA CEDIS (GHS 13,000) being the proceeds of tickets given to the Defendant to sell."
The Plaintiffs are also seeking the "Recovery of the sum of ONE HUNDRED AND EIGHTY THOUSAND CEDIS (GHS 180,000.00) being the sponsorship amount given to the Defendant by VITAMILK for the 2016 F14 concert." The writ was filed on the 7th February, 2017 and Kwabena Kwabena has eight days within which to officially respond to the statement of claim.