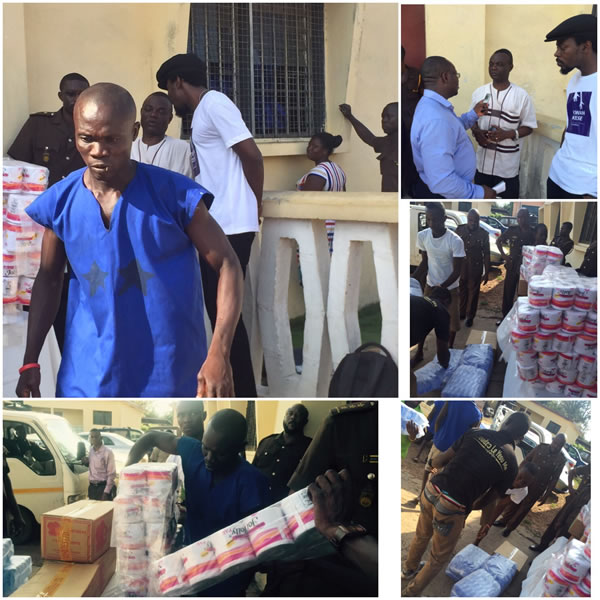 The prisons and prisoners in Ghana have become so dear to Kwaw Kese's heart after he spent five weeks in Kumasi Central Prison and he has vowed to change the conditions of both the infrastructure and the inmates of all prisons in Ghana.
The Rapper and MadTime Entertainment CEO, who has already proposed a 20 year Ghana Prisons development project to the Ghana Prisons service for approval, is still in his own small way making an effort to support prisoners who are really in need.
Kwaw Kese donated several items worth GH¢50,000 to the Ho Prisons on Monday October 12, 2015. Kwaw told Nkonkonsa.com that he had information that the Ho Prisons has currently been hit by skin decease which has infected most of the inmates so he decided to support them with few items that can help the situation.
"I got a call that there was an outbreak of skin diseases at the Ho Prisons and almost all the prisoners were infected, so I decided to go and see what the problem really is. The Prison officers told me some of the emergency items they needed and I decided to support them".
The Kwaw Kese Foundation with support from Joy Industries producers of Joy Daddy Bitters presented assorted item including 800 pieces of Joy Ointments, 200 pieces of Joy Soap, 220 pieces of toilet roll, I carton of Dettol, 100 bags of water and 150 pieces of bread to the prison officials and promised to come back.
"I believe the time I spent in prison was a blessing and I will do anything I can to change the poor conditions inside prisons in Ghana. I am still waiting and hoping that senior officials of the Ghana Prison Service would approve my proposed 20 years development plan and then Ghanaians would understand what I really want to do".
The "Yakubu" Rapper also called on cooperate Ghana, philanthropists, churches, individuals and organizations to support prisoners.
"I want to thank Joy Industries for supporting me to do this and am calling on my fellow stars, cooperate companies, NGOs, Churches and everybody to support prisons and prisoners in Ghana because they really need it".
Source: NKONKONSA.com