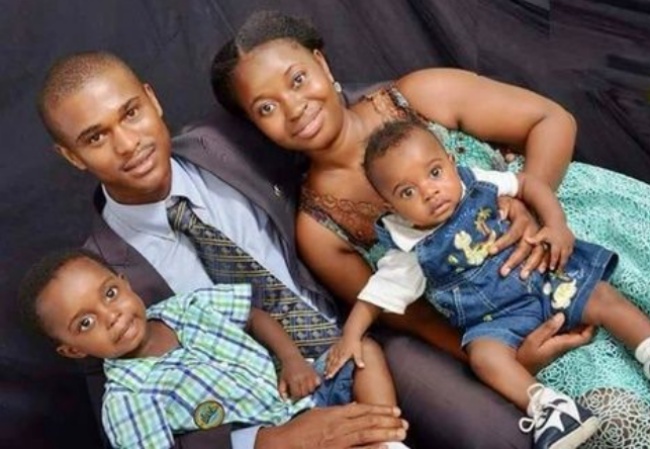 Reports by Peacefmonline.com indicates that the wife of lynched military officer, Barbara Mahama is about to produce a new life for the late army officer.
Mrs. Barbara Mahama according to Peace FM Reporter Pius Badu Banson who visited the family is three months pregnant.
The 26-year-old widow already has two children with the late captain, who after his gruesome murder has been promoted to 'Major' by President Nana Addo Dankwa Akufo-Addo.
Major Maxwell Adam Mahama was killed after some residents of Denkyira-Obuasi in the Central Region claimed they mistook him for an armed robber.
He had a weapon on him, which alarmed a snail seller, who in turn called the assembly man of the area to report him due to reports of robbery in the town.
He fell unconscious after he was severely beaten and stoned after the assembly gathered the youth of the town to deal with him.
He was later set ablaze.
The incident has been roundly condemned by Ghanaians and a heavy flow of tributes from leading Ghanaian personalities and citizens at large have been pouring in.
President Nana Addo Dankwa Akufo-Addo has said his government will ensure the prosecution of all those involved in the murder.
The President also announced a 500,000.00 Ghana Cedis Memorial trust fund to support the Widow and her Children when he visited the bereaved family.
The board of trustees for the fund will be chaired by the Minister for Defence, Dominic Nitiwul.
The President has personally donated Ghc 50,000.00 to the trust fund.
The father of the slain soldier, Captain Retired Adam Mahama said his son's death should serve us a wake-up call to all Ghanaians to discard the dastard cases of instant justice.
Source: King Edward Ambrose Washman Addo/Peacefmonline.com