Shatta Wale's cousin, Magluv has dropped more secrets about his baby mama, Michy's affair with the Chief Executive Officer of Zylofon Music, Nana Appiah Mensah simply referred to as NAM1.
In a new video shared by Magluv, she revealed that NAM1 uselessly 'chopped' Shatta Michy all because he promised to buy the Trade Fair Centre for her and change it to a shopping mall for her where she can run multiple businesses there.
According to her, NAM1 did not fulfil his part of the bargain after sleeping with Michy countless times but dumped her following his issues with SEC and Bank of Ghana over his Menzgold business.
Watch the video below;
https://www.instagram.com/p/CRRuHJ3ppbQ/
An Instagram blogger known as Cutie Julls has made certain wild allegations against Shatta Wale's baby mama and former girlfriend, Michy and also dropped insights on what caused they fallout after years of being together.
Cutie Julls alleged that Shatta Wale's manager, Bulldog once bumped into Michy and Zylofon Music booss Nana Appiah Mensah also known as NAM1 in a very compromising position and took snaps of them without their knowledge in order to use it against them in future.
According to Cutie Julls NAM1 signed Shatta Wale at a very high cost primarily to protect his image and businesses.
The blogger further added that the Shatta Movement Empire president and Bulldog used the pictures to their advantage and ultimately it emerged that they planned the whole thing with Michy who actually agreed to play that diabolical role because of the love she had for the Dancehall King.
Her long post reads;
Hmm Michy Michy Michy, just know that it's a phase, this too shall pass. 
But my dear, you see all the things you did for love are being used against you today and it's sad but not the end of the world. 
Of course it was silly of you to have done all that. Eg, availing yourself to be used as a blackmail tool so you that you and your man can be richer. While you were with Shatta, you compromised your pride and integrity as a woman in so many ways and so many occasions just to appease your man and also to prove to your man that you had his back, you were in love, you're gangster just like himself etc but today, you see that it's all being used against you? 
Maybe you were not so wise or very matured then but thank God for your life today. What is happening right now on social media is absurd and heartbreaking but it's just a phase which will surely pass in a couple of hours. I bet it even if it will affect you, it wouldn't be bad as if it had happened way back before this your new growth. 
My dear, just know it will definitely pass likely sooner than you might probably anticipating. But hope you've learnt your lessons tho. Love with your heart but don't loose your head whilst at it. We pray you are able to endure all that is happening and what might happen next [cuz probably there are more and worse images which is being intended to be posted later]. 
At the end of the day, you won your pride and dignity back cuz you walked away and came back as a better, better groomed and more matured woman and a better mother for your son. 
Why is all these happening just few hours after news went viral that you've took your son to church to be baptised? The old Michy was a perceived "g*ngster" but the new Michy is a young beautiful single mother doing her thing and striving to become "a good mother" in her own terms for her son to be proud of in future. Well done Mama Majesty. Hope and pray you've learnt your lessons. Stay focus and don't be distracted cuz all some of us see in what's happening on social media is to sway you to loose focus. Don't fall for it. 
Ladies, please let's all learn Michy's past. It's sad but this phase shall also pass. Good evening.
Cutie said.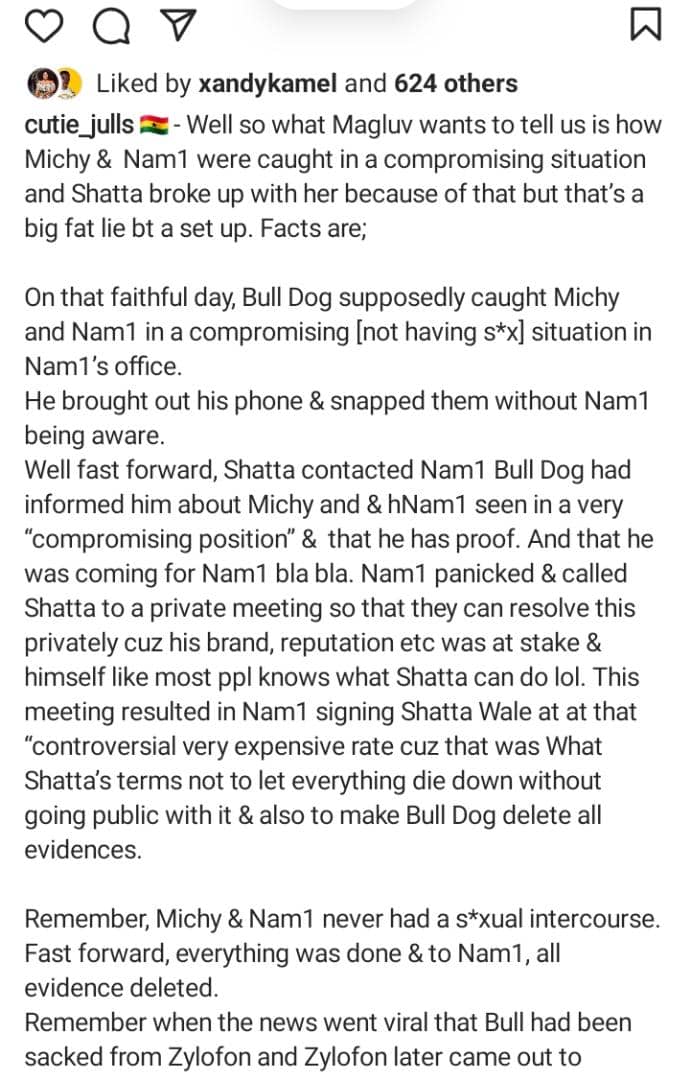 Source:NKONKONSA.com