Singer Fantana has confirmed that indeed she wore sanitary pad on stage during her performance at the Reign Concert 2019 which took place at the Fantacy Dome on Saturday October 19, 2019.
The "And So What" hit maker suffered a wardrobe malfunction which accidentally exposes some private parts of her body, revealing a white paper. Some concluded that she was wearing sanitary pad and others think it was a panty liner.
Watch her performance below:
Well, the singer has confirmed that the white paper exposed from private part was a sanitary pad.
In a press statement released by her management company – BLOWN, Fantana has revealed that she wore a sanitary pad because she was in her period, and she isn't shy of that because it happens to all women.
"Yes my menses appeared 30 minutes to performance and I had to put on a sanitary pad and still go on stage. Menstruation is not a shame and I urge all young women to take a cue from my actions and not to let it stop them from doing anything they what to do", portion of the press release stated.
Read the full statement below: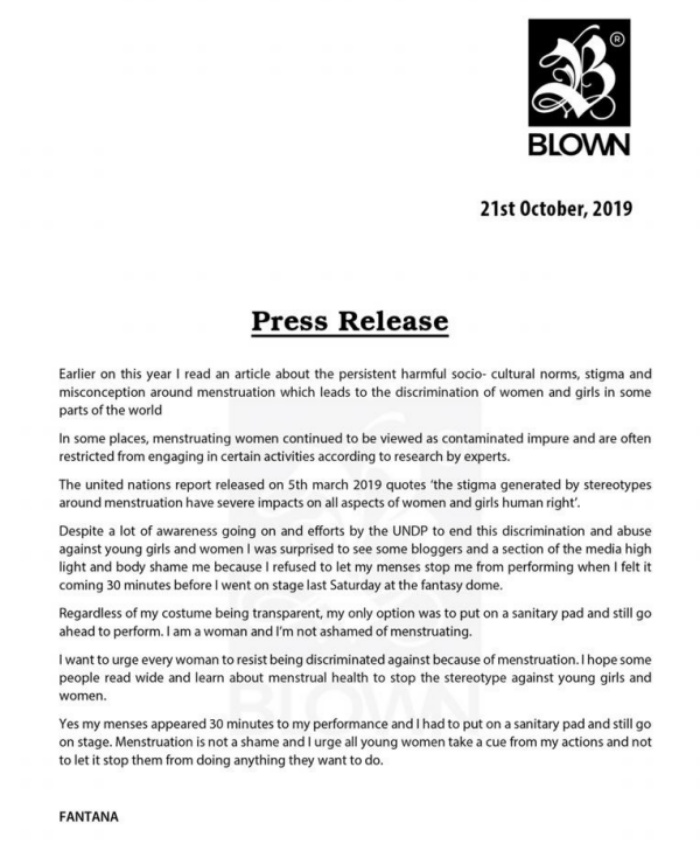 Source: Eugene Osafo-Nkansah/Peacefmonline.com