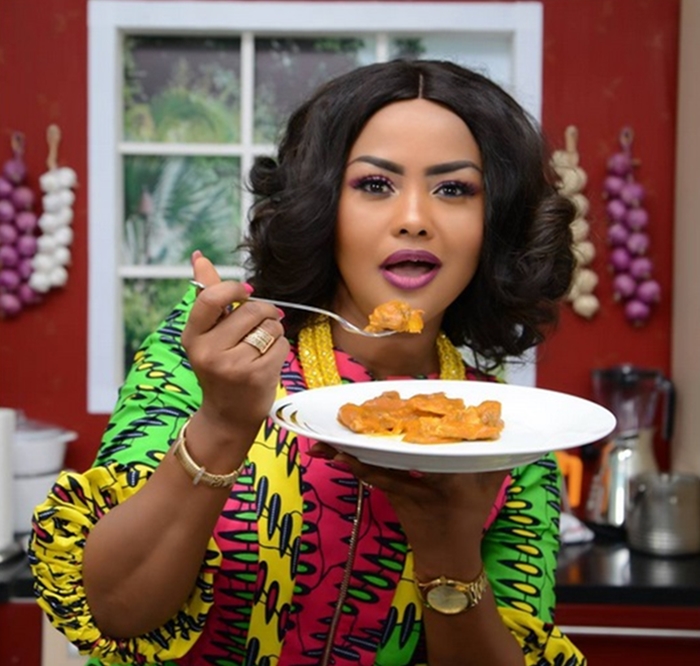 Beautiful screen goddess Nana Ama Agyeman McBrown has bowed out of the popular
"Aben Show"
at the time when the show is at its peak.
Viewers of the popular cooking TV show – "Aben Show" would no longer see their favorite host Nana Ama Mcbrown doing her thing with her celebrity guests on the show every Sunday at 4pm on UTV and Nkonkonsa.com has all the gist.
Nkonkonsa.com is reliable informed that screen diva Nana Ama McBrown has said 'goodbye' to the 'Aben Show' after hosting the show for four seasons. According to our sources, some misunderstanding or miscommunication between host – Nana Ama and Producers of the show led to her exit from the most popular cooking TV show, on TV currently.
However, when Nkonkonsa.com contacted Mcbrown, she confirmed her exit from the show but she denied any speculations of misunderstanding between her and the producers of the show.
"Well, I didn't want to be the one to say this but let me just clear the rumors ones and for all. It is true I would no longer be the host of the Aben show from the beginning of the new season which will be the fifth season but there is no problem".
Asked why she is existing the show, the "Madam Mock" actress said:
"I signed a contract with producers to shoot four seasons of the show and we have had four successful seasons but now my time, my plans and my new schedule would not allow me to continue so I didn't renew my contract. That's all! there is no problem".
Nana Ama thanked her fans for supporting her and also thanked producers of the show for giving her the opportunity.
"I want to thank my fans for supporting me on the Aben Show right from day one till now. I thank them for watching, for their comments and for making the show number one. Let me also thank Doreen Heymann who is the Executive Producer of the show and the entire crew for giving me the opportunity to host a TV show for the first time and I must say I really enjoyed the experience".   
She has assured her fans to expect something bigger and better from her very soon.
Meanwhile, close sources to the Producers of the Aben Show have hinted Nkonkonsa.com that TV Host Babie Dapaah of "Hot Gossip" fame would replace Nana Ama McBrown as new host of the Aben Show.
Source: NKONKONSA.com