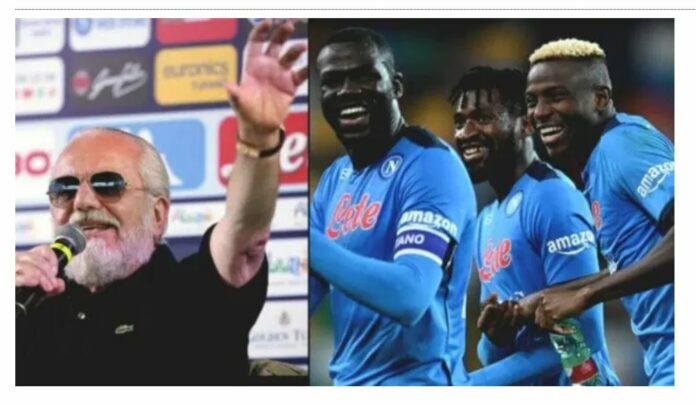 Aurelio Di Laurentiis, the president of Napoli, has vowed never again to sign players from Africa for his squad.
The divisive owner of the Italian Serie A team made this declaration during a live-streamed event.
Nothing will convince him to sign African players, in his view, except where such athletes agree to forego competing in the AFCON, or African Cup of Nations.
The AFCON, which takes place in January and February every two years, is seen by the club owner as a problem for both his club and the top European teams as a whole.
The competition takes place in the middle of the European season, which necessitates a one-month player absence for the participating clubs.
At the most recent AFCON, Napoli lost Koulibaly to Senegal, Anguissa to Cameroon, and Ounas to Algeria but refused to surrender Victor Osimhen to Nigeria.
Koulibaly's move to Chelsea has left Napoli with three African players on their roster. According to Aurelio Di Laurentiis, he won't sign another African player until they consent to forego participating in the AFCON.
Napoli owner Aurelio Di Laurentiis said at a livestreamed event that he will not sign another African player unless that player signs a decree to not participate in AFCON. One of the craziest things I have ever heard or read during my life following football.

— Maxi (@MaaxiAngelo) August 2, 2022
Source:NKONKONSA.com