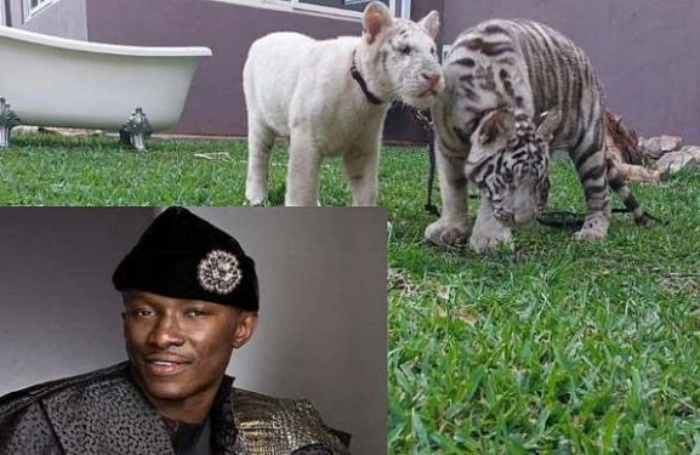 Ghana Police Service has ordered two tigers belonging to businessman Nana Kwame Bediako alias Freedom Jacob Caesar from the Wonda World Estates, Avenue Lincoln.
This follows a complaint to the Police that the tigers were being kept in the residential neighbourhood.
The Police in a statement said preliminary investigations had established that a resident in the gated community was keeping the two tigers under lock in a cage.
"Police have reached out to the Wildlife Division of the Forestry Commission and efforts are underway to relocate the animals to an appropriate facility," the Police said in a statement.
"A special police team has been deployed to provide adequate security in the affected neighbourhood to ensure the safety of residents until the animals are relocated.
The residents of the estate had in a news report complained about the presence of the tigers being an inconvenience and a threat to their safety. The statement added that investigations were ongoing into the matter, urging residents within the community to remain calm.
"Whiles investigations continue, we would like to entreat all residents within the community to remain calm as we work with our stakeholders to ensure their safety".
Meanwhile, Ghanaian businessman Nana Kwame Bediako aka Freedom Jacob Caesar has responded to the public outcry over his ownership of two tigers and their housing at a private estate.
According to him, he acquired the animals for tourism purposes and not to endanger residents of his Wonda World Estates, Avenue Lincoln where they are housed.
His reaction comes after the residents of the facility located near the British High Commission at Ridge in Accra, complained about the presence of the tigers being an inconvenience.
"Well, first of all, It's right. I have two tigers that I bought on a bid between Ghana and Dubai of which I was the representative of the private sector that had initiated an interest in purchasing these animals," Mr Bediako told pressmen today in Accra.
He further disclosed that the seven-month-old tigers were purchased as part of a drive to boost local tourism.
"I wanted to go into the Safari world by making sure that Ghana becomes the first country in the whole of West Africa, East Africa and Central Africa except for South Africa that has these animals. We wanted to be the first that have it and so I went in for the male and female version of it," he stated.
He said as part of efforts to ensure the safety of the public he had installed a special cage to ensure that the tigers do not escape. Mr Bediako said he had already invested over $100,000 in the upkeep of the animals and was working on establishing a zoo in the country.