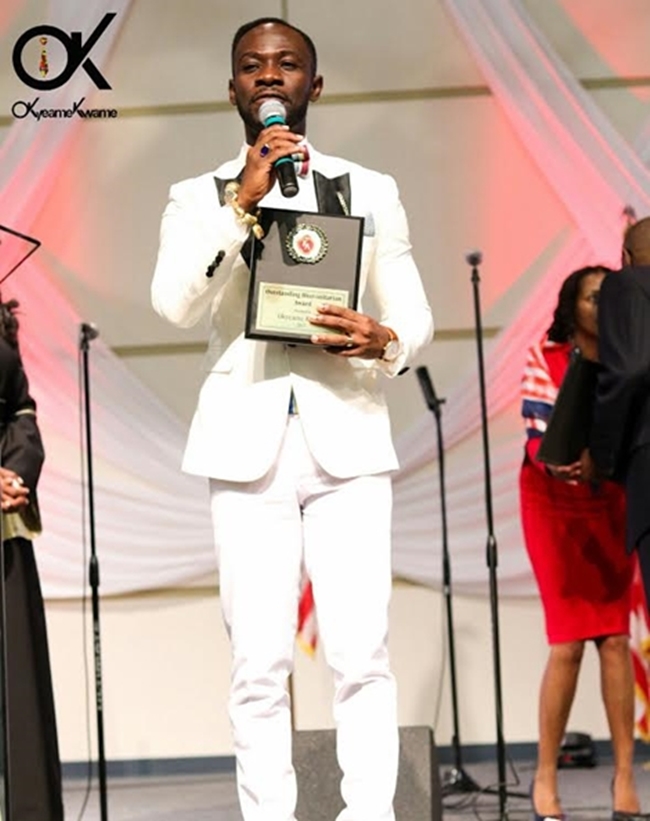 Multiple award-winning Ghanaian artiste and philanthropist, Kwame Nsiah-Apau, of career name, "Okyeame Kwame" has received  a United States Presidential Volunteer Service Award for an outstanding humanitarian effort.
The award was pinned on him on Sunday 19th March, 2017 in Ohio by USA's immediate Ex-President Barack Obama, in recognition of his Hepatitis B campaign in Ghana.
The Presidential Service Award, the highest civilian honour is granted to US citizens and permanent residents for their voluntary community service towards development.
Starting in 2009, the awardee has in partnership with MDS-Lancet Laboratories spearheaded and funded the screening, vaccination, sensitisation of over 7,000 beneficiaries against the deadly Hepatitis B disease in his country. The cause, worth applauding lands him the recognition herein.
Presented to him by Dr. Pauline Key, on behalf of the former president was a congratulatory plaque with an inscription, "Outstanding Humanitarian Service in Ghana".
The artiste expressed his appreciation to President Obama for the honor and pledged even greater intensity of his campaign towards ridding Africa of Hepatitis. The OK management has announced, earlier this year that plans were advanced to extend their Hepatitis activations to West African countries in the ensuing months.
Not long ago, he had received a key to the city of Cincinnati for the same reason, as well as an appointment as an iconic figure by the World Hepatitis Alliance.
OK, bent on inspiring creative difference takes this laurel in the midst of an overwhelming public excitement at his recent music projects, "Best Rapper Alive" and "Saucing" (which features his children Sir and Sante).