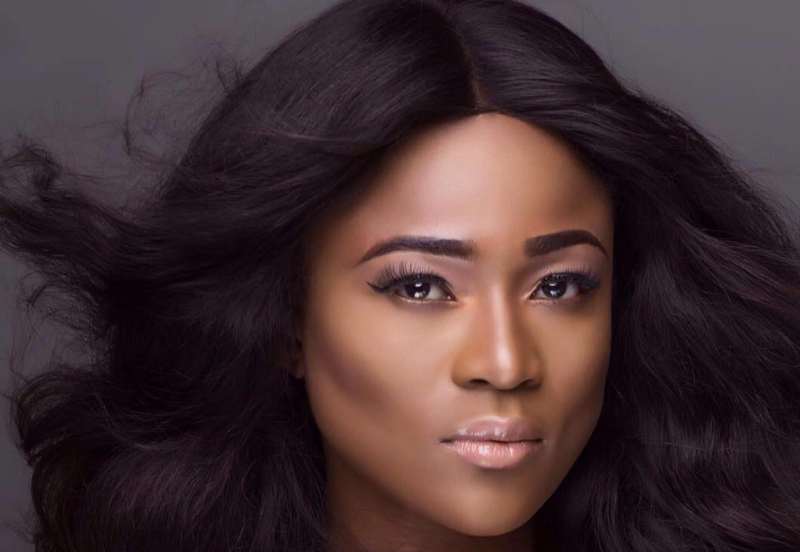 Actress Christabel Ekeh has finally spoken about her naked pictures released on the internet.
The Ghanaian actress has urged all on her fans who are disappointed about the release of her nude photos not to worry explaining that the photos depict her new brand.
In a phone interview with Christabel played on Joy Prime, the Actress rubbished suggestions that her page was hacked. She said the pornographic act was "a way of communication" to welcome people to the new Christabel. When questioned who is the new Christabel, she said " … if you have any question just look at the pictures" – Subliminally to say the new Christabel doesn't give a f**k.
When asked if she's alright, the 2008 Malaika 1st Runner Up said she's very fine and further debunked rumours that she is restrained from talking to people, she said she talks to people if she wants to.
Answering to the reason she unfollowed everyone on Instagram, the Nigerian/Ghanaian said that "I want to follow God … so why should I follow them".
On the 7th of July 2017, actress Christabel Ekeh's Instagram page was turned into a porn hub after a full butt photo was posted with an "F" word message.
When asked who this 'new Christabel' was, the actress who has starred in popular movies like 'potomanto', and 'sweet mistake' answered, "it is whoever you can imagine."
"That's why I'm not wearing anything. So whatever you want to wear on me, that's your imagination".
Contrary to speculations that the actresses' account may have been hacked into and the pictures posted by someone else, the actress took responsibility for the act.
She explained that she also "unfollowed" everyone on her Instagram because she wanted to 'follow' God and not people.
These recent behaviours of the bubbly actress, coupled with her claim a few weeks ago to have fallen head over heels in love with a man who kidnapped her some months ago have caused the showbiz fraternity to question the actresses' psychological state.
In answer to these speculations, Miss Ekeh said, "people are saying this, people are saying that; everybody has their opinion, their own imagination, but I'm fine and I give God all the glory".
Series of nudes were posted later on her page (one with her face showing). Many thought her page was hacked because the absurdity was insane but that assumption is totally wrong.
The pretty actress shocked Ghanaians especially her fans last week when she released nude photos of her on her Instagram page, asking if her page was hacked.
But the actress has explained that she deliberately released the photos and that she is comfortable showing her nudity to the world.
After the release of the photos, she unfollowed most of her followers who criticized her. The actress last year released similar photos but later deleted them after series of bashing.
Source: NKONKONSA.com