Actress Vicky Zugah has been in a series of relationships for the past few years.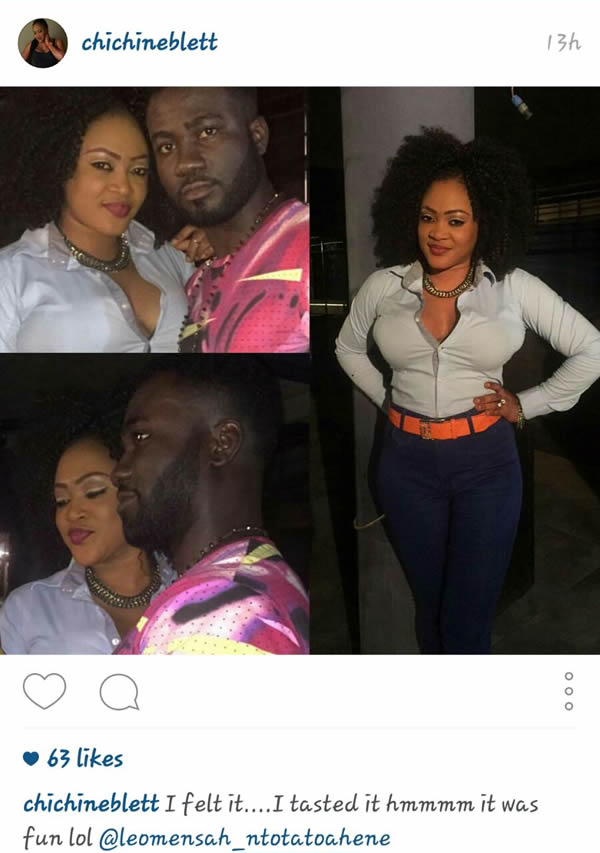 Vicky Zugah was reported to have tattooed her then boyfriend, DJ Cash's name on the body after the guy inked "Vicky Zugah" on his body. Few months after tattooing names on their skins, Vicky Zugah left DJ cash for her colleague actor Leo Mensah.
Zionfelix.com reported about Vicky's relationship with the current host of Gh One's Ntoatoa show when the actress made some donations to The Borstal Institute for juveniles in Accra October 11 last year during her birthday celebration.
Few months after the two entered into the relationship, we are informed they have gone their separate ways. Close source tells Zionfelix.com that the two separated before Vicky Zugah involved in an accident on the GIMPA road when returning home from a movie set.
The source added that the two had broken up when Leo Mensah hosted the actress on his show, Ntoatoa which aired on Gh One.
New pictures emerging on social media suggest that Leo Mensah has entered into a new relationship with another actress, Chichi.
Chichi posted pictures of Leo Mensah and herself on Instagram with some love quotes which has raised questions on her relationship status with the actor cum TV host.
"I felt it….I tasted it hmmmm it was fun lol@leomensah_ntotatoahene".
Source: Zionfelix