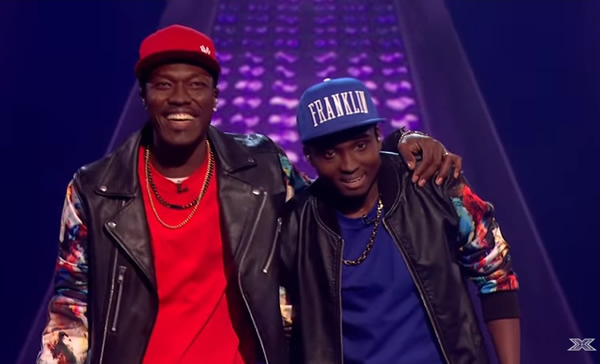 Ghanaian UK based duo Reggie N Bollie are still in the running for the ultimate prize in the ongoing 2015 X Factor.
Reggie 'N' Bollie have become firm fans' favorites from the moment they bounced onto the stage like a pair of toddlers who've found the stash of Sunny Delight.
The duo did their own version of Fuse ODG's "Dangerous love" and Walk The Moon's "Shut Up And Dance". They incorporated some Azonto dance in their performance.
Back in their native Ghana, however, the duo are already musical stars. Bollie had a hit back in 2004 called You May Kiss The Bride, while Reggie (known back home as Reggie Zippy) released three singles in 2006: Virgin, For Sale and Adoma.
Watch Reggie N Bollie doing their own thing:
Source: NKONKONSA.com