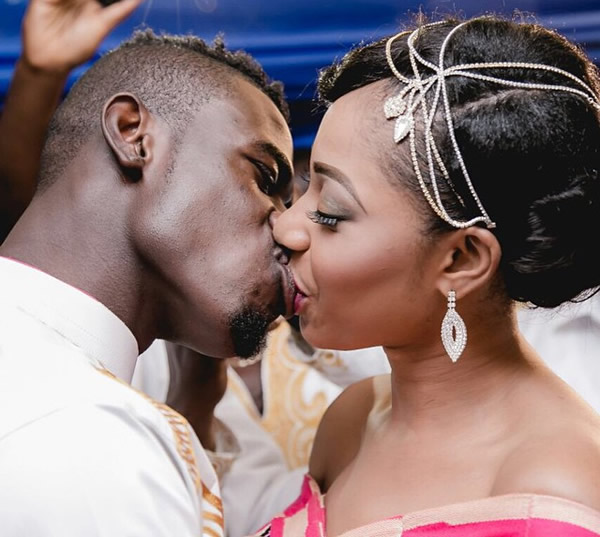 Amanda Acquah, wife of Black Stars player Ebenezer Afriyie Acquah has confessed that the scandal that rocked their marriage years ago didn't tear them up.
According to her, they are separated but not divorced as speculated by a section of the public. An audio of vicious Amanda confessing of having an affair with Black player Jordan Ayew and describing her husband in an 'unprintable' manner was leaked years ago.
But speaking on Gh One's 'Cheers' hosted by Nana Aba Anamuah, she indicated that the sex scandal never affected their marriage adding that she loves her husband and he equally loves her.
She said the husband was naive about marriage, saying he didn't understand the intricacies of marriage. Amanda indicated that she was not perturbed about the scandal and that she concentrated on building their future.
According to her, she didn't want Ghanaians to point accusing fingers at her when the husband becomes poor after retiring from football.
She indicated that though rich men proposed to her, she never cheated on her husband who she described as her kind of man.
'Scandal didn't affect us, we are still married and not divorced, we are only separated. When we married, we didn't understand marriage, honestly, the truth is when we got married we didn't really understand the meaning of marriage, especially for him because, I was married before not officially though, I lived with him so I had a bit of maturity and experience but he didn't, he was very young and I mean he was getting the fame and the money was coming.
I was concentrating on investing in our future, I didn't want a situation where people will blame me for chopping his money when he retires from football. They will say he took a 'premani' girl to chop his money. So I was cautious, I wanted us to enjoy our money after his retirement. We were just joking and my friend recorded me, I knew he recorded it, he kept it for three years. My husband knows that there is no way I will cheat on him. He knows I have been faithful to him, Jordan was way back,' she explained.
According to her, the lady who leaked the video was bent on breaking their marriage for 'snatching' Afriyie from her. She explained that calling her husband 'monkey' didn't mean he is ugly saying its a pet name she has given to him and the husband calls her 'rat'.
"Its just a term we all use to tease each other, its a game we all play, even Kennedy I used to call him Agama lizard or Tiger because he was very wild, and he too had names he called me," she said.
Amanda who dated business mogul Kennedy Agyapong popularly called 'Kenpong' before marrying Afriyie Acquah is alleged to be dating another business magnate who owns fleet of cars and he has bought her a house.
Source: Ultimatefmonline.com