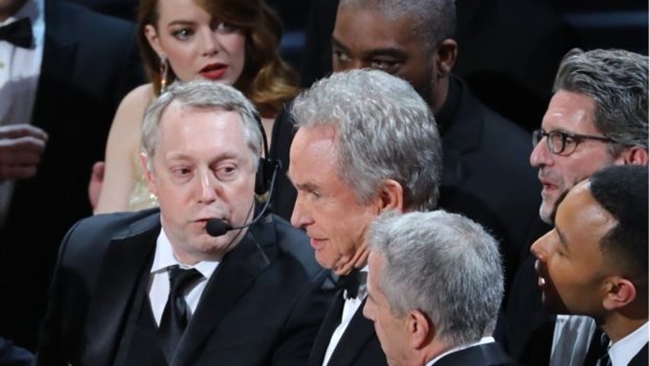 Moonlight has won best picture at the Oscars – but only after Faye Dunaway initially said La La Land had won.
Warren Beatty was handed the previous winner's envelope, containing a card saying "Emma Stone, La La Land", resulting in the error.
The team from La La Land was in the middle of its acceptance speeches when the mistake was discovered.
Stone said backstage afterwards: "Is that the craziest Oscar moment of all time? Cool! It's going to be history."
Musical La La Land won six Oscars including best director and best actress. Moonlight also won adapted screenplay and best supporting actor.
Damien Chazelle, director of La La Land, became the youngest filmmaker to win a best director Oscar at the age of 32.
Bonnie and Clyde stars Beatty and Dunaway announced La La Land had taken the best picture prize – but then the musical's producer Jordan Horowitz announced there had been a mistake.
He said: "This is not a joke. Moonlight is best picture," and showed the camera the card that revealed the winner.
Two La La Land producers had already given their acceptance speeches before the mistake was revealed.
Host Jimmy Kimmel joked that he knew he would mess up compering the ceremony, and added: "Personally I blame Steve Harvey for this," referring to Harvey's mistake in announcing the Miss Universe winner in 2015.
'In my dreams'
Beatty had opened the envelope but hesitated to read out what it said in side, leaving it to Dunaway to announce La La Land.
He returned to the microphone to say: "I want to tell you what happened. I opened the envelope and it said 'Emma Stone, La La Land', and that is why I took such a long look at Faye and at you.
"I wasn't trying to be funny. This is Moonlight for best picture."
The film's director Barry Jenkins said: "Very clearly even in my dreams this can't be true. But to hell with it because this is true. It's true, its not fake."
Paying tribute to the team behind La La Land for the way they handled the mistake, he said: "We have been on the road with these guys and it was so gracious and so generous of them."
Emma Stone, who won the coveted best actress prize, said backstage.
"I'm so excited for Moonlight. Of course it was an amazing thing to hear La La Land and I would love to win best picture. But we are so excited for Moonlight. I think it is one of the best films of all time.
"Is that the craziest Oscar moment of all time? Cool! It's going to be history."
She also said that she still had the envelope for best actress in her hand, although there are always two envelopes (one for back-up), which might explain why the mistake occurred.
La La Land also picked up best cinematography, best score and best original song for City of Stars.
It also won best production design.
Manchester by the Sea won two awards – one of them was for best original screenplay.
Acting winners
Viola Davis – best supporting actress, Fences
Mahershala Ali – best supporting actor, Moonlight
Emma Stone – best actress, La La Land
Casey Affleck – best actor, Manchester by the Sea
Davis, who had been nominated twice previously for Doubt and The Help, also thanked her "captain", Washington.
Host Jimmy Kimmel put on a strong performance, with much of his patter unsurprisingly relating to the current US political climate.
In a reference to Donald Trump's Twitter attack on Meryl Streep following her criticism of him at the Golden Globes, Kimmel joked that Streep was "uninspiring… mediocre… underwhelming and lacklustre".
He asked the audience to give a round of applause for "the highly overrated Meryl Streep. Great dress, is that Ivanka?"
Kimmel also joked that Hollywood doesn't discriminate – apart from "on age and weight".
The first political speech of the night came from Alessandro Bertolazzi, one of the make-up and hairstyling winners for Suicide Squad, who said: "I'm an immigrant, I'm from Italy, this is for all the immigrants."
Colleen Atwood won an impressive fourth Oscar for costume design for Fantastic Beasts and Where to Find Them, having won previously in 2011 for Alice in Wonderland, in 2006 for Memoirs of a Geisha and in 2003 for Chicago.
Kevin O'Connell finally picked up an Oscar after 21 nominations for Hacksaw Ridge. He was first nominated back in 1984 for Terms of Endearment.
The film also picked up best editing.
Iranian film director Asghar Farhadi's The Salesman was named best foreign film.
Farhadi chose to stay away from Sunday's ceremony following President Trump's attempt to ban travel from Iran and six other mainly Muslim countries.
Zootopia won best animation, beating films such as Kubo and the Two Strings and Moana.
Other winners included British film The White Helmets, which picked up best documentary short.
The US denied entry to 21-year-old Syrian Khaled Khatib behind the film because of problems with his documents.
The a 40-minute Netflix documentary follows volunteers who risk their lives to rescue civilians in Syria.