Actress Yvonne Nelson unfortunately did not meet late screen goddess Suzzy Williams before her untimely demise but she has shared some kind words about the late "Chin Chin" Lady.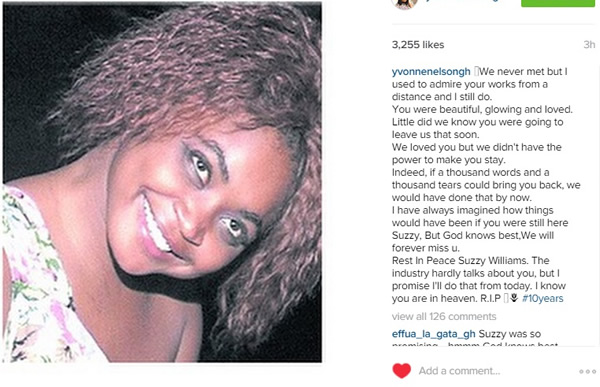 Tuesday September 8, 2015 was exactly 10 years since beautiful actress Suzzy Williams passed away after a brutal car accident on La road in Accra and this is what Yvonne Nelson had to say on Instagram this morning in her memory.
"We never met but I used to admire your works from a distance and I still do.
You were beautiful, glowing and loved. Little did we know you were going to leave us that soon. We loved you but we didn't have the power to make you stay.
Indeed, if a thousand words and a thousand tears could bring you back, we would have done that by now. I have always imagined how things would have been if you were still here Suzzy, But God knows best,We will forever miss u.
Rest In Peace Suzzy Williams. The industry hardly talks about you, but I promise I'll do that from today. I know you are in heaven. R.I.P ???????? #10years"