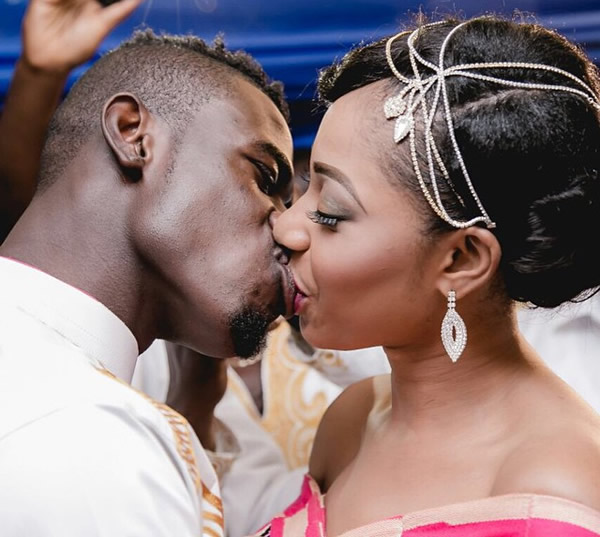 Afriyie Acquah's marriage to socialite and Business woman Amanda has been one controversy after the other but this time the Black Stars midfielder is shattered, if information available to Peacefmonline.com is anything to go by.
A reliable source close to the soccer star has hinted Peacefmonline.com that the marriage between Afriyie Acquah and Amanda is slowly melting down after a little over a year of marriage.
According to the source Afriyie Acquah has already sent some members of his family to Amanda's family in Ghana to make his divorce intentions clear to them.
"Afriyie is divorcing Amanda! He has already sent his family to inform Amanda's family that he wants to bring their daughter back to them. This has hurt Afriyie so much and he doesn't want to continue the marriage", the source revealed to Peacefmonline.com.
The source added that since the viral audio came out, friends and family members of both Afriyie and Amanda having being trying to solve the murky issues amicably but Afriyie Acquah is bent on going ahead with the divorce.
Afriyie Acquah has already deleted all pictures of himself and his scurrilous wife Amanda on his Instagram page and he has kept his divorce plans on the low because he has to concerntrate on upcoming Black Stars friendly match against Congo in Brazzaville on September 1.
It all started with Amanda's nude pictures which she allegedly sent to a married man leaked on the internet but Afriyie Acquah came out to his wife's defense denying that his wife never sent the nude pictures to any married man but she rather sent them to him (Afriyie Acquah) and that it was normal for a distanced couple to exchange nude pictures.
Earlier this week the audacious midfielder had a shock of his life when an audio of Amanda claiming she slept with Afriyie Acquah's Black Stars team mate Jordan Ayew for 4 years leaked and went viral.
After the viral audio, several other tapes have surfaced on the internet reveling damaging information about Afriyie Acquah (Who is referred to as Monkey) including allegations that he is impotent, comparing the size of his penis and his sexual performance to that of Jordan Ayew (referred to as fresh boy in the viral audio) among shameful private information.