Actress Beverly Afaglo has urged the government to amend certain provisions of the law that prevent residents from repairing bad roads without first obtaining a permit.
People with the financial means to make their community's roadways more accessible and safer, she believes, should be able to do it without going through any lengthy procedures.
Beverly Afaglo went on to say that if the country is to move forward in the digital age, some of these regulations must be repealed to make way for new ones.
People require basic utilities, she noted, so making them conveniently accessible is critical.
"There's this issue bothering me 4 sometime now.I'm told u need permit to fix a bad road anywhere in Ghana & u pay 4 the permit.My own money to fix the road to make movement easy & save all of us from visiting the mechanics everyday,I hv to pay for a permit b4 I can fix our deplorable roads?
And am told when u start without the permit they'll come and stop u.Smh …. Cammon Ghana,we need to wise up.If we say we are moving to "E" everything,we must look at our basic amenities too.Who even made that law? Government isn't fixing the roads with our taxes,we are not complaining,allow good citizens to help make our lives easier too u say no.This is evil.It's a shame.That law must be amended or cancelled completely"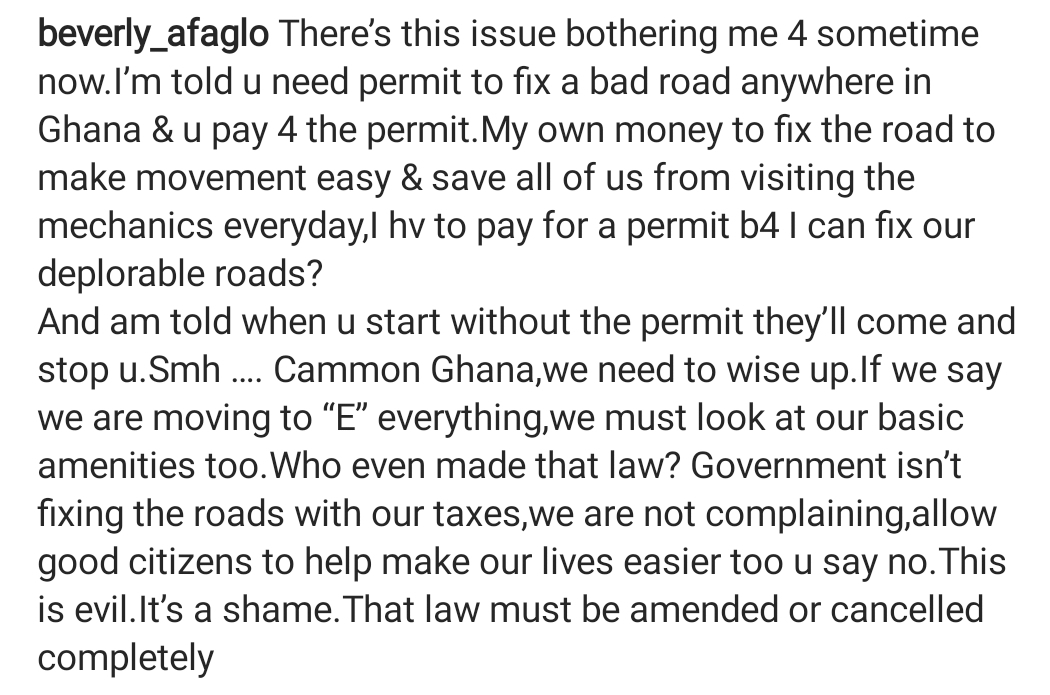 Source:NKONKONSA.com