Ghanaian media personality, Bridget Otoo has slammed those who while expressing their disappointment in the ruling New Patriotic Party (NPP) government will drag the opposition party, NDC into their agitation.
Bridget Otoo noted on her Twitter page that the fact that they are not happy about the governance of the incumbent party does not mean they should let another feel bad for NDC.
The former TV3 presenter's outburst comes after the youth wing of the National Democratic Congress staged a demonstration demanding justice for the death of three young men who calling for good governance in the country.
According to her, people who voted for the NPP and feel disappointed in their leadership should express their frustrations without roping in NDC and she believes these comments do come from disappointed NPP voters who will never vote for the NDC but are quick to make others feel bad about the Umbrella party.
She tweeted;
'You are disappointed in Npp cos you voted for NPP, you will never Vote NDC. But please, you have no right to also tell someone else how to feel about NDC. T 4 thanks'.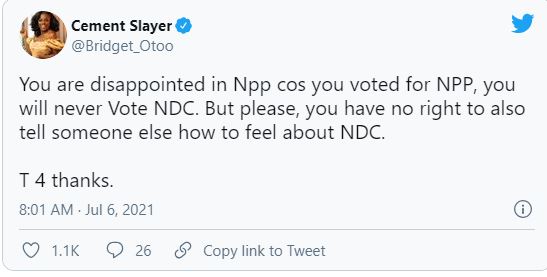 Source:NKONKONSA.com