Popular Ghanaian fashion designer and actor, Elikem Kumordzie has reacted to the viral video of colleague actress and born again slay queen, Moesha Boduong sharing her past life's experiences with some people.
Ghanaians were thrown into a state of shock after Moesha Boduong was seen praying and thanking God in church for saving her after she had given her life to Christ and left the earthly pleasures of life.
In this new video fast trending online which has sparked a conversation among social media users including celebrities, Moesha Boduong made several revelations about how some celebrities sleep with rich men for money and how she recommended ladies to big to chop for money.
She also revealed that she has sold her cars and vowed not to let any man bang her again until marriage.
Sharing his thoughts about the video, Elikem the tailor said Moesha Boduong may be going through a mental health challenge and that people should stop chastizing her and pray for her instead.
Elikem made this claim through Instagram on Tuesday, July 13.
"Moesha [Boduong] may be going through a mental health challenge," Elikem claimed. "Can we all stop chastising her and pray for her? It can happen to anyone."
He added: "Depression is close to each of us or even a case of schizophrenia. I love you Mo[esha] and I'll see what I can do to help."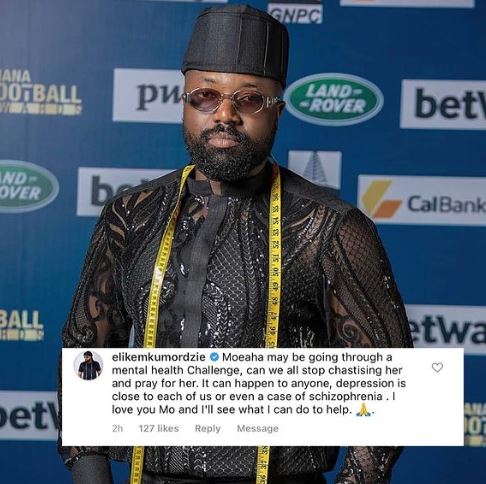 Source:NKONKONSA.com