It appears Ghanaian music executive and businesswoman, Ayisha Modi has vowed to bring down her rival and comedienne, Afia Schwarzenegger as they continue to be at each other's throat.
Ayisha Modi in a recent post on her Instagram page revealed that she has verified information about the real father of her twins as she claims she has found who the man is.
According to the Bhim Nation sympathizer, Afia Schwarzenegger's baby daddy is not a German as she claimed but an old American man.
'This is Nana Ama Afrakoma my blood ???? ????????????????. She and her mother took care of your twins (Boys) for 7 years, whiles u were in South Africa doing prostitution. When you were deported from South Africa to Ghana , she took u in and did whatever a sister, and a good friend will do for u, Madam what did u do to her after 25 years of your friendship?
Show the world ???? ur kids passport ????. How can a lair like u be trusted in our Media? Instead of you to use ur life story to motivate your followers, you are there brainwashing them. The day the world will hear ur life story, I know and believe the whole nation will disown u for lying and brainwashing the ppl . Didn't you try sleeping with her husband? ????????????????????????????. Madam if you don't shut up ???? I will be ur down fall cos guess what I have found The father of ur sons ????????????????????????????????????, and he is not a German ????????????????,
He is an old American man named John ????????. Dare me again and I will come live with @empressbingy and she will tell the whole world your real life story ????????????. All ur life story on the Net are all fake like ur mouth ????????????????????????????. Madam am a Zongo girl with Zongo spirit ooo????????????, at the same time a Ga. SIA . This fight will end 2032 and it's a promise ????????????????????. Come and curse yourself again SIA????'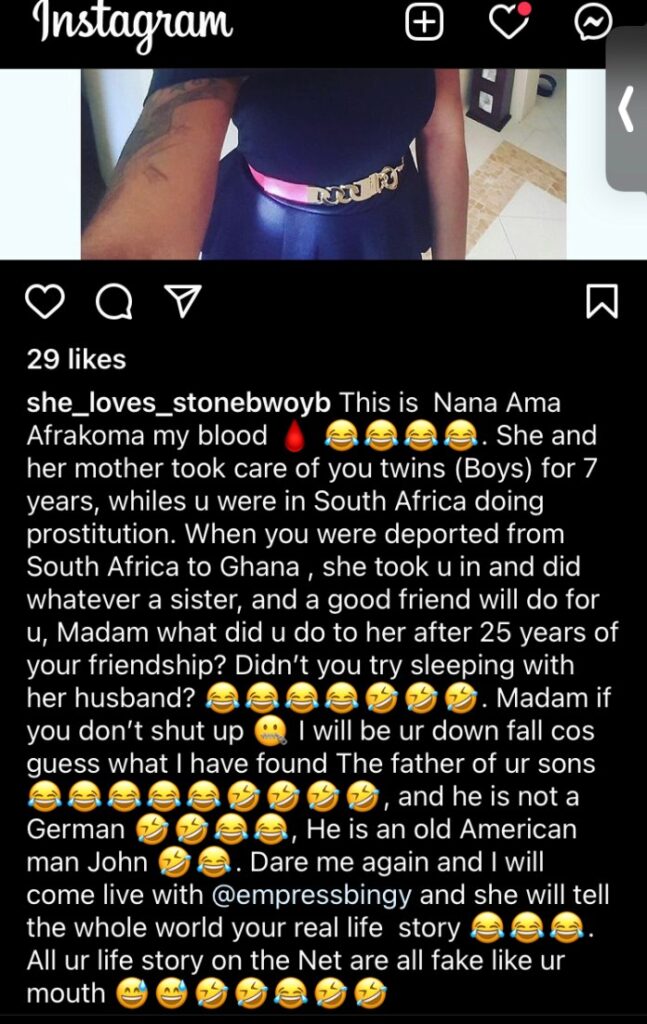 Source:NKONKONSA.com