Deloris Frimpong Manso aka Delay has exposed the clear hypocrisy at play in the family of late dancehall musician Ebony Reigns.
Yesterday marked exactly 4 years the budding musician and her family went to her tombstone to mourn once again.
ebony's father was quoted by many blogs to have said he wishes the late Ebony will return to the land of the living. He claims Ebony speaks to him from the dead and she is not happy wherever she is.
Reacting to this, Delay said society neglect the needs of people when they are alive but cry and beg them to return when they die.
Taking to her Twitter, she wrote; When a person dies, people cry and beg them to come back. But when they're alive they don't even show they care about them. Weird, isn't it?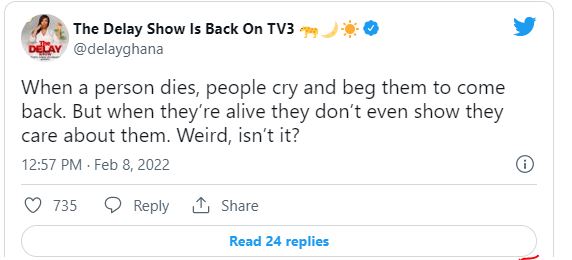 Source:NKONKONSA.com