Ghanaian media personality and entertainment critic, Kwame Dadzie has berated award-winning rapper, Sarkodie over his comments in a recent interview he granted on Beat FM in Nigeria where he is currently embarking on a media tour.
During the interview, a host, Osi Suave bemoaned how Sarkodie is not cherished and loved enough by Ghanaians and don't know what they have. Sarkodie in his response concurred with Osi Suave stating that he is one of the few artistes in Ghana who is putting Ghana on the map and pushing internationally.
Reacting to this, Kwame Dadzie pointed out that Sarkodie has had the best treatment from the media and the entire Ghanaian populace. He accused the 'Coachella of joining foreigners to insult the very people who made him who he is today.
'Sarkodie seems not satisfied with the love Ghanaians show him. Come to think of it, who made Sarkodie who he is today? Ethiopians? Tanzanians? Nigerians? Which Ghanaian artiste has had the best treatment from the media and the entire Ghanaian populace than Sark?
Yet, you go out there and join these foreigners to insult the same people that lifted you up?
What does the host mean by "'
In other post he made, he wrote;
'No Nigerian artiste will come to Ghana and paint a gloomy picture about the Nigerian media or the citizens.
Meanwhile, the Nigeria media also bashes their artistes. They talk about the negatives too.
If you really want to always compare yourselves to the Naija man, learn that aspect of them too.
When they move out of their country, they are ambassadors. They try to market the positives to the outside world.
It was the same thing Joey B did when he also went for an interview in Nigeria a few years ago.
You think by doing that you win their hearts? SMH'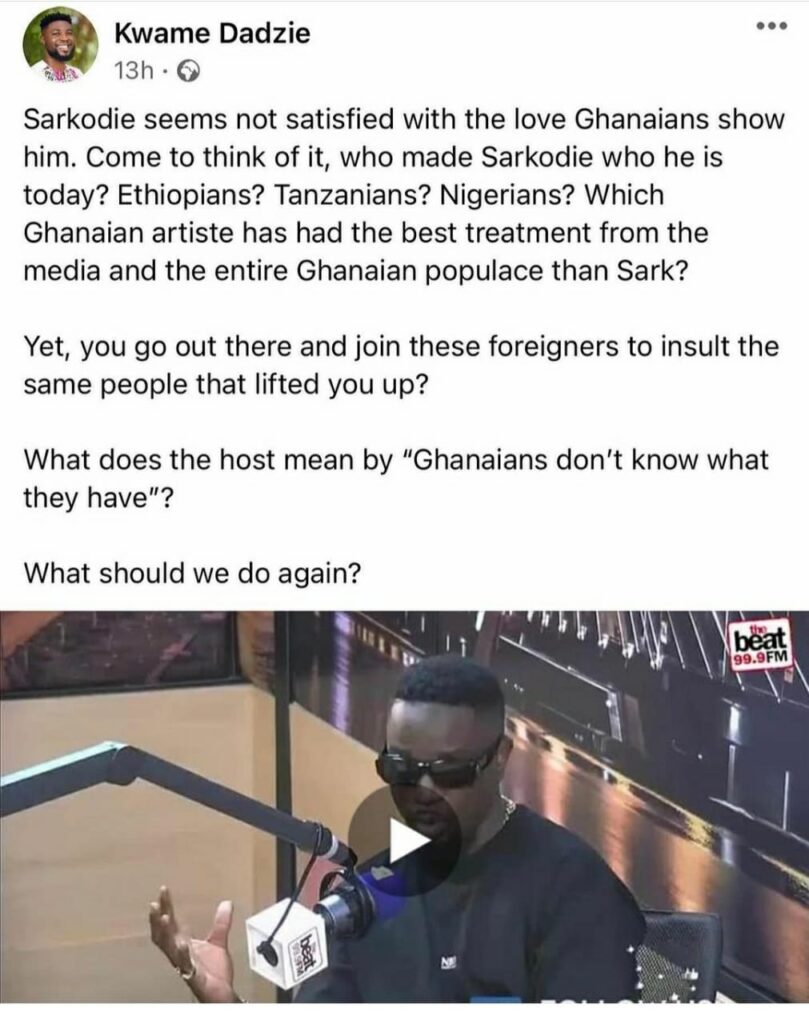 View this post on Instagram

Source:NKONKONSA.com