A Ghanaian cop identified simply as Dede has been gunned down while on a motorbike, according to information circulating on social media.
A popular Facebooker, Waakye SixCedis Shito Nkooa who perhaps knows the deceased in person broke the sad news in a fresh update on his timeline.
He shared the news thus;
"Rest in peace Dede…????????..she was shot on a motorbike.."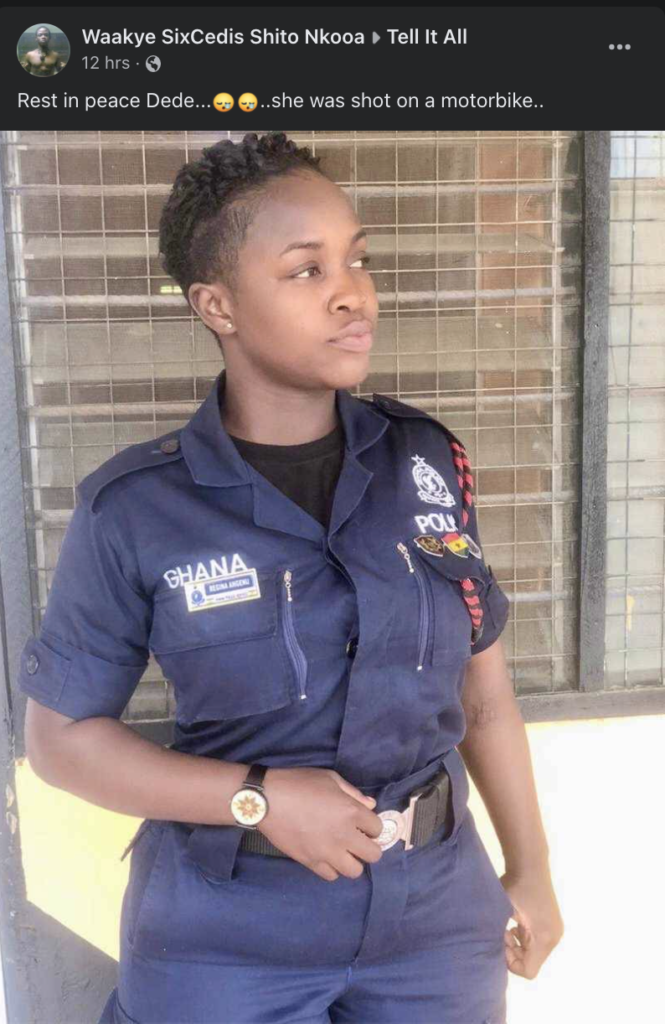 Netizens quickly reacted mournfully, a few samples of which we have shared below;
Dery Aabangbio Eunice – Hmmmmmmmm Lord please protect us, this life is now scary, rest in peace Dede
Kodjoe Dickson – My drr rip so sad ???? damaging system call Ghana!!!! Hmm 3y3 as3m oh
Adanobi MakuYoobi – May we never be unfortunate..Arh such a pretty lady
Josephine Donkor – So how many more people do these borku people want to kill????????????????????????
Josephine Donkor – If I'm the IGP paaa…. I'll leave them to kill themselves….nkwasias3m sieee….. just killed someone's daughter like that…..ahhhhh????????????????????????
Avagah Wonder – Her killers will also fall by the way she died…young life just wasted..sorry dear
Seer Ernest – This is Where the Bullet Proof Vest should be given to every single police man.
Nandi Erica – Rip may God continue to have mercy on your soul ???? rest well
Ejidike Uche Paul – May her soul rest in peace such a beautiful young officer