Controversial actress and producer, Yvonne Nelson has made yet a very controversial statement on social media that pertains to religion and Christianity in Africa.
Yvonne Nelson who is a  firm believer that Christianity in Africa today isn't a religion compared the state of Christianity in Africa vis-à-vis Christianity in Israel.
In a tweet, she said Christianity started in Israel as a family, moved to Rome as religion and then to England as politics.
Unfortunately for Africans, Christianity got to the land as business for religious leaders to exploit the ordinary people.
"Christianity left Israel as a family, came to Rome as a religion, went to England as politics and ended up in Africa as a business." – Yvonne Nelson posted on Twitter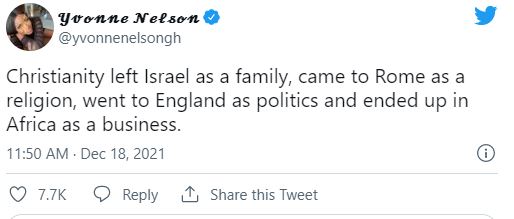 Source:NKONKONSA.com