Chairman of Ghana Music Right Owners Organisation, (GHAMRO) has weighed in on the conversation on social media over the comments made by fast-rising Ghanaian rapper, Yaw Tog about Stormzy's collaboration.
Yaw Tog made headlines on the internet and various entertainment platforms on radio and television stations when he said on live television that he made Ghanaian-born UK rapper, Stormzy popular in Ghana.
"I made him more popular here too because people didn't know Stormzy in Ghana here," he told MzGee on TV3.
He was subjected to trolls and condemnation by some persons in the music industry and music lovers across the country and he came back online to address the issue stating that his words were harmless and was misconstrued.
"It's quite unfortunate a very harmless comment I made during a recent interview has been misconstrued by a few for whatever reason but regardless, we move. It's Big Mike on the Remix," he wrote.
In another development, Rex Omar has jumped to Yaw Tog's defense as he claimed that the first time he heard of the name Stormzy in Ghana was when he collaborated with Yaw Tog.
Taking to his Facebook page in a series of posts he slammed those criticizing Yaw Tog for trying to make him timid pointing to the fact that people will call you arrogant if you are expresive and confident.
"Ah so now young artistes like YAW TOG don't even have the right to express themselves? Why are we so quick to break down our YOUNG instead of building them up?" he wrote.
"The first-ever time I heard of the name STORMZY in GH was through YAW TOG!"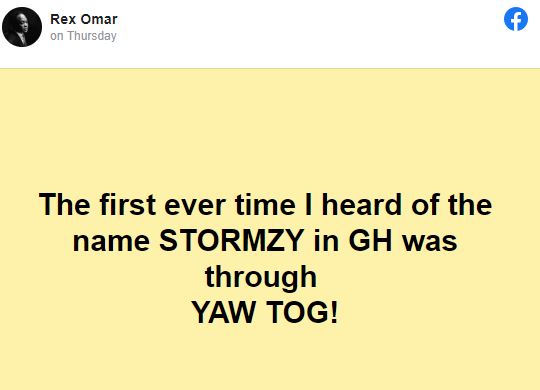 https://www.instagram.com/p/CRELRFSp1sP/
Source:NKONKONSA.com