Nhyira FM presenter and pundit, Ruthy has appealed to President Akufo Addo to reduce the E-Levy tax on electronic transactions.
It's at the back of the brouhaha and difficulties surrounding the passage of the E-levy that Ruthy, a highly-opinionated social critic, has admonished Akufo Addo to consider slashing the 1.75% percentage.
Ina post on Facebook, Ruthy made it emphatic that a proposed 1% E-levy will get the support of Ghanaians as compared to the 1.75% projected by Finance Minister, Ken Ofori-Atta on November 17, 2021.
POST BELOW:
#RuthyCorner
Honestly, this government needs applause than 24/7 bashing. NPP government under Akuffo Addo led administration is doing phenomenally well and hence need to commend the government and support his ideas and initiatives.
It is true "Ghanaians have Short Memories"!!!
From 2017 till 2022, when was the last time, you heard of #ScarcityOfBasicCommodities (Necessities) like "Petrol, diesel, gas, premix fuel" in the country?
But when John Mahama was in power, you have the money but no gas to fill your cylinder, no premix fuel, no ECG light, etc.
A government that has helped in GDP growth with about 6.5% in 2019. Though we in hard times and this government has shared with us one of the possible solutions by introducing to us with "E-Levy", many countries have introduced this system with change of name to help boost the economy.
Problem, I have with government is most of its communicators do not communicate to its citizens on clarification but rather attacking "frustrated citizens" that need answers and understanding on issues. To me, that's pathetic.
Letting people know the importance of your ideas needs proper convo but most of the communicators attack and denigrate the able Ghanaian who's seeking for clarity.
Going forward, I want to say let's support #E-Levy and then we look into the percentage from 1.75% to a fixed 1%.
E-Levy is good and will be a solution for all compared to IMF and their conditionalities
#LetsSupportELevy.
Thank you!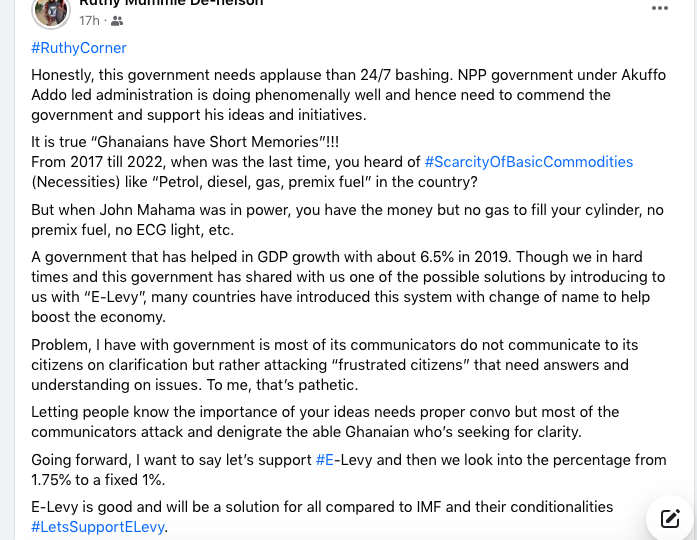 Source:NKONKONSA.com