An Accra high court has ordered all employees of troubled Menzgold Ghana Limited and all its sister companies, to surrender every company property in their possession to the Economic and Organise Crime Office (EOCO).
The court order secured by the Economic and Organised Crime Office (EOCO), is to give to give the anti-corruption organization legal backing to freeze all landed properties and vehicles belonging to the embattled Chief Executive Officer of Menzgold Ghana Limited, Nana Appiah Mensah, alias NAM 1.
The landed properties include Menzgold Ghana Limited, Menzgold Office Complex, Zylofon Art Complex, Brew Marketing Consult, Star Mad. Football Club, Zylofon Music and Media Company Limited, Brew Energy Company Limited and G. Tech Automobile Service.
Others include two properties located at Trassaco Valley; namely Plot No. 315 and Plot No. 337, a plot of land (No 54) near Oak Street, Trassaco Valley, an uncompleted residence and 510 acres of land.
A statement issued on Tuesday, January 29, 2019 and signed by the Head of Public Affairs at EOCO, Jacqueline Avotri, therefore, directed all employees of the affected companies, relatives and friends in possession of any of the properties to surrender them to the office.
"Failure to do so will constitute contempt of court which will attract the appropriate sanctions," the statement said.
It further implored the public to provide information to the EOCO to facilitate the retrieval of all vehicles and properties not listed in the freezing order.
Read the statement below: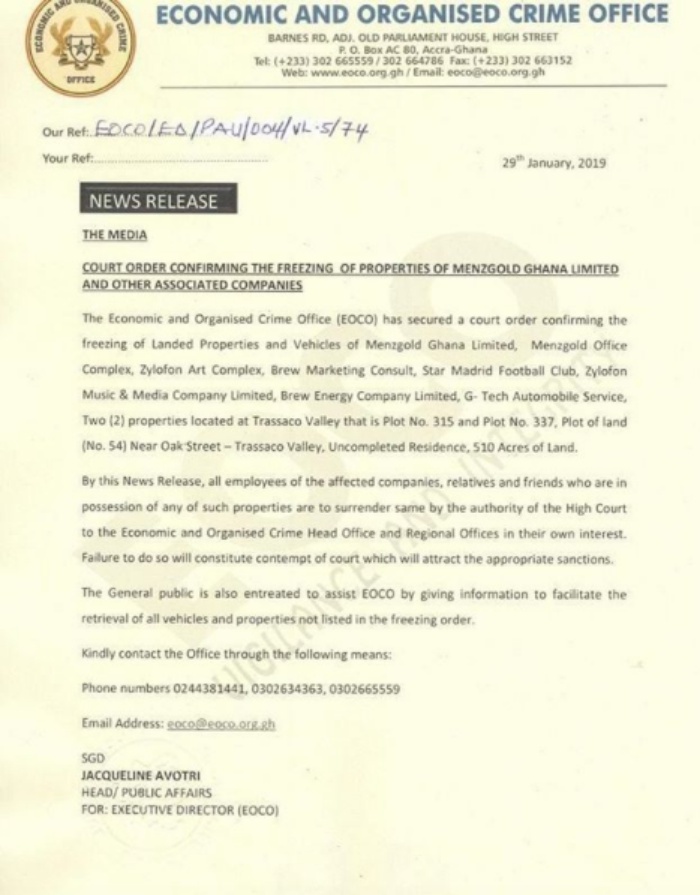 Source: NKONKONSA.com