Per a report by myrepubliconline.com, the Auditor-General's report for the year ended 31st December 2020 has exposed financial malfeasance at the Ministry of Tourism, Arts and Culture.
The former Minister of Tourism, Arts and Culture, Hon. Catherine Afeku had reportedly misapplied Marine Drive project funds of GH¢387,196.00.
In contravention of Section 7 of the Public Financial Management Act, 2016 (Act 921), report revealed that funds meant for the Marine Drive project amounting to GH¢387,196.00 was misapplied for the celebrations of AFRIMA, Kundum Festival and other activities.
According to the report, an amount of GH¢100,000.00 was released by the then Minister to Palm Media Ghana Ltd for the launch of AFRIMA 2018.
Meanwhile in 2018, the Minister of Tourism, Arts and Culture, Catherine Afeku an interview on Hitz Fm disclosed that Government is supporting the All Africa Music Awards [AFRIMA] with $4.5 million for three years but for 201, government is spending $700,000.
Her reason for signing the AFRIMA deal was to boost tourism.
Another infractions uncovered by the Auditor-General's report was payment of additional expenditure of GH¢73,000.00 for Hon. Minister's trip to the Volta region, accountable imprest amounting to GH¢13,296.00 for Hon. Minister to travel to the Western Region, GH¢900.00 allowance paid for bid opening panel for procurement of vehicle and the release of GH¢200,000.00 to support Kundum Festival.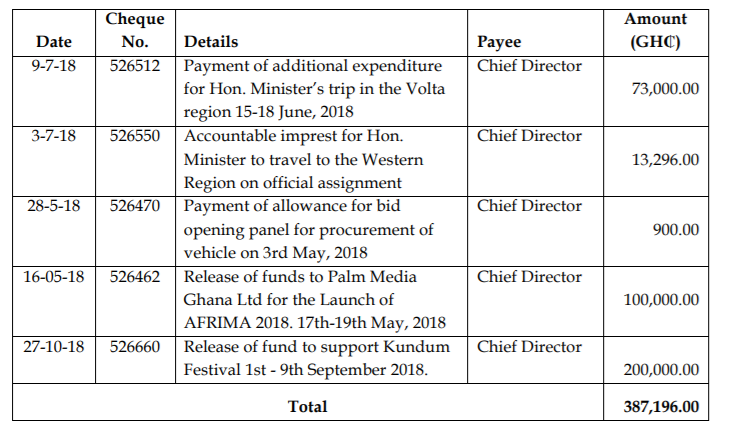 Source:NKONKONSA.com