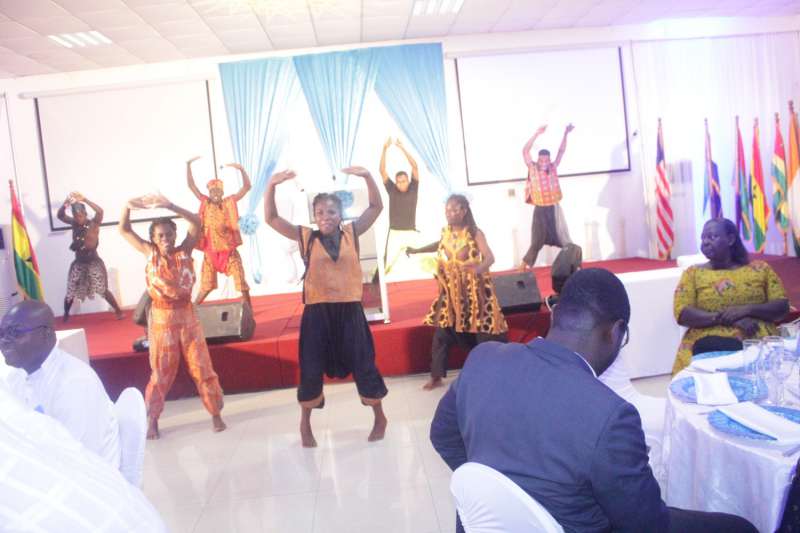 The opening ceremony of the 7th cohort for the Young African Leaders Initiative (YALI) West Africa was held on Sunday July 30, 2017 at GIMPA where its Regional Leadership Centre is situated.
120 participants from 9 West African countries have since commenced their leadership training at the Centre. These participants were selected after months of recruitment and careful planning. The ceremony took place at the GIMPA Executive Conference Hall.
In her welcome speech, the Director of YALI West Africa, Shola Safo-Duodu (Ph.D) mentioned that the centre had trained 1657 participants in the previous cohorts who are excelling in their diverse fields of endeavour. She was confident that this year's will be no different. She indicated that her goal has been and still is to make the RLC, a world-class leadership training institute.
Participants, between ages 18 and 35 years from Ghana, Nigeria, Liberia, Togo, Ivory Coast, Sierra Leone, The Gambia, Burkina Faso and Cameroon, were selected through a highly transparent and competitive process. They will undergo a 5 week residential innovative leadership training from the 30th of July to the 1st of September, 2017. The sessions will feature ethics, contemporary Issues affecting Africa and three specialization tracks of study namely: Business and Entrepreneurship, Civil Society Leadership, and Public Management. The training will be followed by 12-weeks of Mentoring and Internships in their various countries.
Dr. Safo-Duodu thanked partners namely: USAID, the MasterCard Foundation, The Private Enterprise Foundation, Africa 2.0., Microsoft, The DOW Chemical Company, GIMPA and other potential supporters such as Care International, YNG interns Africa, TY Danjuma Foundation, GLOBACOM, Guinness, Integriti PR and Impact Hub. She also hinted that centre aims to attract more partners to pursue this all important mission of grooming more African leaders. It therefore welcomes corporate and private institutions who want to help chart this course.
She announced on-going efforts at enacting global networking opportunities between YALI West Africa and institutions such as the Harvard Business School and the Saginaw Valley State University. YALI was launched by former President Barack Obama as a signature effort to invest in the next generation of African leaders. In July 2014, President Obama announced the creation of four YALI Regional Leadership Centres in Ghana, Kenya, South Africa and Senegal.
According to the Head of Corporate Affairs at YALI West Africa (Accra RLC), Mrs. Sefa Gohoho-Boatin, 'The Centre provides and promotes collaboration and a forward-leaning culture of diversity that entails dreaming and thinking differently to define and realise one's potential. The three available tracks are inclusive embracing future leaders regardless of gender, ethnicity, socio-economic status, religion or disability.'
The YALI Regional Leadership Centres are a project of the United States Agency for International Development (USAID) in close partnership with the MasterCard Foundation and other local and international partners across Africa.