The Ghana Medical Association (GMA) has observed with grave concern the increasing trend of confirmed cases for COVID-19 in Ghana and our national response  to this pandemic.
In a statement copied to the press, the GMA said being fully conscious of the threat posed by the pandemic, the disturbing trend of community spread and the obvious inadequate of capacity (logistics and human resource) of the nation's health system, call on His Excellency the President of Ghana, Nana Akufo-Addo to declare a Nationwide Lockdown with the exception of essential services with immediate effect.
"The Lockdown though not a comfortable decision for leadership and citizens alike, is a proven option backed by science and along with the other measures will ultimately be in our best interest," the statement said.
"We call on all Ghanaians to support such move in the national interest to save our nation from the devastating effects of this pandemic," it added.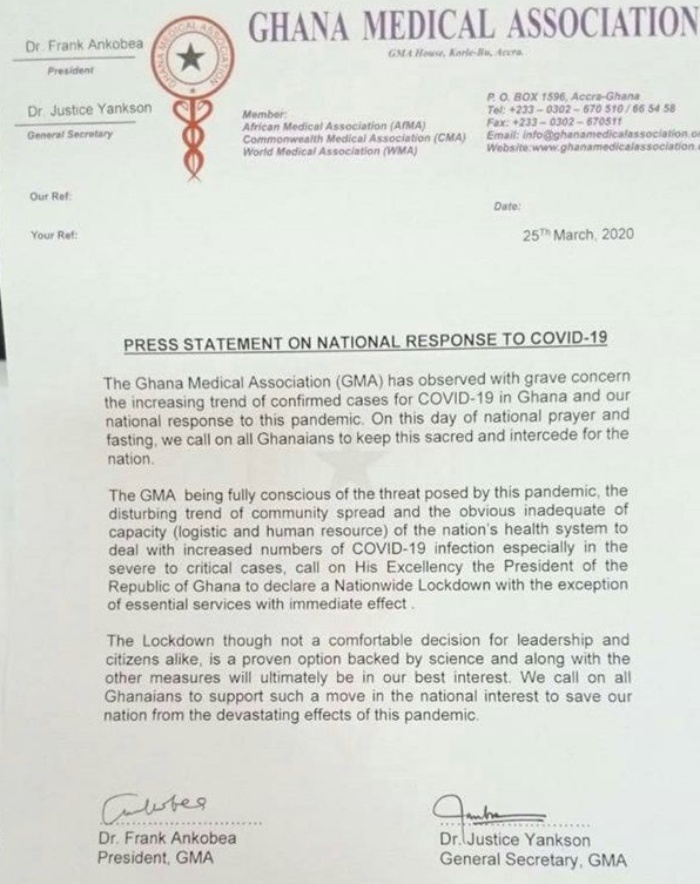 68 Confirmed Cases 
Ghana's COVID-19 cases has risen to 68.
This was after 11 more persons who were mandatorily quarantined by the government tested positive.
According to the Ghana Health Service (GHS) as at the morning of 25 March 2020, a total of sixty-eight (68) cases including two (2) deaths have been confirmed.
Sixty-six (66) of these confirmed cases are being managed in isolation.
The sudden spike in case incidence is as a result of the mandatory quarantine and compulsory testing for all travelers entering Ghana, as directed by the president. Overall, 30 of the 68 cases have been reported in the general population with the remaining 38 cases among persons currently under mandatory quarantine.
As of 24 March, a total of 1,030 persons are under mandatory quarantine; samples from 863 of them have been tested and 38 confirmed positive.
Source: Peacefmonline.com