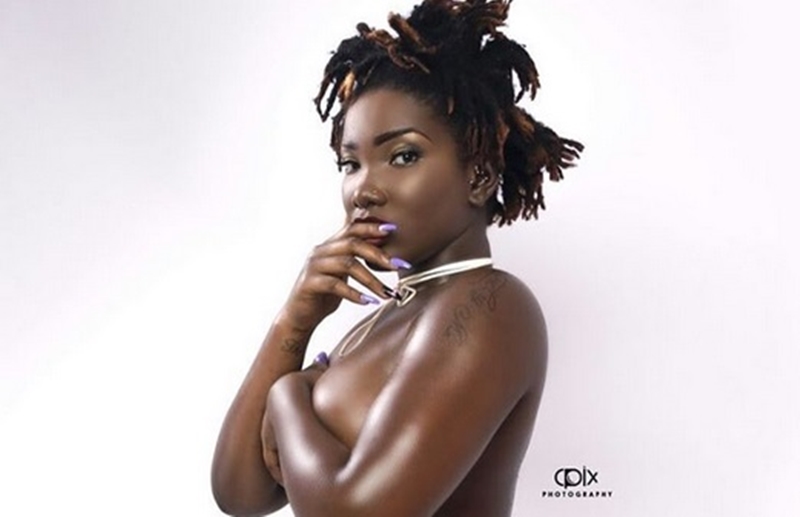 Tourism ambassador Abeiku Santana has rejected talk that Ghanaian dancehall sensation Ebony dresses provocatively to the extent of exposing her breasts.
Ebony, born Priscilla Opoku-Kwarteng, has made a strong entry unto the Ghanaian dancehall scene with a couple of hits including 'Kupe', which got her nominated for New Artiste of the Year in the just-ended 2017 Vodafone Ghana Music Awards (VGMAs).
The 20-year-old musician has received a lot of criticism on social media for what people have described as indecent dressing and seductive stagecraft.
However, Abeiku Santana told Accra FM's Nana Romeo on 'Ayekoo Ayekoo' on Thursday, April 13: "I have never seen Ebony expose her nipple. If anyone sees her breasts showing they should take a photo of it and bring to me."
When told by the host that he had seen the artiste exposing sensitive parts of her body on many occasions, the radio presenter retorted that it may not be the case
"How! If you are to see anybody's nipple, then that would mean the person is naked… It is not true that she dresses for her nipples to show," he stated.
According to Abeiku, who is part of the management of the burgeoning dancehall artiste, Ebony's genre of music goes with a certain culture and attitude, hence one "cannot do dancehall with…a stiff, rigid demeanour".
"There are some dancehall artistes who are good but their stagecraft is not the best. The music genre is like going to war … because it is not our culture we see it strange but with time she will mature," he hoped.
For her, the artiste's "Youthful exuberance" makes her go to the extremes but she will modify her personality as she matures, citing Mzbel as an example.
Mr Santana urged the public to desist from excessive condemnation else it will kill "people's talent".
Meanwhile, Mr Santana has said it is no fault of a child to grow up without parents and, therefore, called on the public to support Class Media Group's (CMG) Celebrity Orphanage Easter Funfair.
"Easter is a gift from God to the world and the gift is Jesus Christ whom he gave to die for the sins of the world. However these kids have no parents and if we do not encourage these children and show them love, that kid can become an armed robber so let the orphans know that there is love in the world, even if, by no fault of theirs, they have no parents," Mr Santana said.
The Celebrity Orphanage Easter Funfair is scheduled to take place at the Efua Sutherland Children's Park on Easter Monday April 17 and Santana has invited Ghanaians to donate generously towards the programme.
"Class Media Group is inviting every well-meaning person to the Efua Sutherland Children's Park from 7am. Let's play with the orphans and if you have clothes, food and money to donate, bring them. Just as Jesus is a gift to the world, this Easter is a time of giving so do same for the orphans," Santana stressed.
Santana is among the many celebrities billed for the programme. The Celebrity Orphanage Easter Funfair event is intended to bring children from selected orphanages in the Greater Accra Region together in one location to socialise and interact with selected Ghanaian celebrities to make them feel loved and entertained during the Easter festivities.
There will be a variety of games for the children with performances by the various artistes as well as free medical screening and donations to the various orphanages.
The selected orphanages are the Teshie Orphanage, the Potters Village, Chosen Home, Christ Faith, Save The Young, and Osu Children's Home.
The list of celebrities doing this with CMG includes comedians Funny Face and Kalybos, movie stars Martha Ankomah, Majid Michel, and Yvonne Nelson.
Others are Nana Ama McBrown, Vicky Zugah Amy Newman, John Dumelo, SP Kofi Sarpong, Joyce Blessing, Lydia Forson, and Pascal Amanfo.
The rest are A Plus, Pearl Amoah, Abeiku Santana, Asabea Cropper, Blakk Eye, Moro Awudu, Emefa Apawu, and Mauvie Hayford. CMG is, therefore, calling on individuals and corporate bodies to donate towards the programme to put a smile on an orphan's face.
Donations in the form of cash can be done via mobile money on 0556092020 or at the front desk of Class91.3FM or Accra100.5FM located at No.147 Roman Road Ridge, Accra.
Other donations like used clothes, exercise books, reading books, water, pens, carton of soaps, bag of rice, oil, canned drinks, etc. are also welcomed.
Kindly call 0302208070/0556092020 for further enquiries.