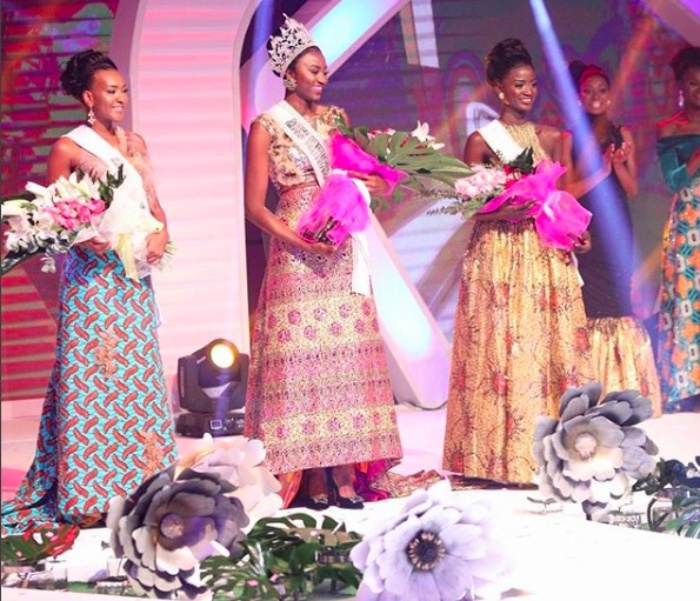 To the sound of roaring cheers and applause at the Labadi Beach Hotel, a 23 year-old graduate's childhood dream came true when she was crowned Miss Universe Ghana 2017 at the pageant's hugely anticipated grand finale.
Ruth Quashie, a Business Administration graduate who hails from the Central Region eclipsed 120 young women from across Ghana with her 'confidence, attentiveness and beauty' to win the coveted title last Saturday (2nd September).
Awarded to her in front of high profile guests and other top dignitaries that included big names from the country's entertainment industry, Ruth came into her own as she went head to head against nine other finalists.
"From Day One, Ruth caught our attention" revealed the pageant's Head Judge and fitness guru, Sean Guy.
"She's very attentive, very confident and obviously very beautiful. One of the moments that solidified her as a contender for the crown and the eventual winner, was the 'plank challenge'. This is a physical task that requires a lot of mental strength and determination, which are both attributes for winning the overall Miss Universe contest," she added.
Former Miss Universe Ghana 2004 titleholder and the pageant's current National Director, Mrs. Menaye Donkor Muntari added, "The excitement in the aftermath of the event is still palpable. It's been an amazing journey for us all and I'm extremely proud of all the ladies who participated in the event. In just a short space of time, they have metamorphosed into confident world-class women who will continue to be great role models in our society. I'm certain that Ruth will make a significant impact on the international stage and bring home the prestigious Miss Universe crown."
It's an aspiration shared by Ruth, who now has her sights on joining other Miss Universe national winners.
"It's long been a childhood dream of mine to become Miss Universe, but I never had the courage to dare enter the competition. This year, I thankfully found the courage to step forward; not only to prove to everyone else that I am a winner, but most of all to prove to myself that I can achieve whatever I put my mind to. So far, this experience has convinced me that my journey and courage will serve as an inspiration to hundreds of young girls who want to chase their dreams too," she noted.
As well as the chance to compete internationally, Miss Quashie walks away with a brand new Hyundai saloon car plus a one year contract with Italian modeling agency, The Lab Models. She will also work with two charities – Smile Train and My Sister's Keepers Foundation.
The Miss Universe Ghana 2017 competition was launched in June and supported by key sponsors EIB Networks, SHEY, MALZ Promotions, Fiesta Gh and Rigworld.
Judging the contestants were fitness guru and lifestyle consultant, Sean Guy, former Miss Universe Netherlands (2003) and Miss Netherlands Europe (2005) Tessa Brix Jurisich, modeling agent Giovanna Nicole, C.E.O. of Brommon Bespoke Kwaku Boateng Akuoko and PR Director Michelle Attoh.
About this year's charities:
This year, the Miss Universe Ghana 2017 contest is proud to support two charities – Smile Train and My Sister's Keepers Foundation. Smile Train is an international charity that creates awareness and provides training, funding and resources to help empower local doctors to offer free cleft repair surgery and comprehensive cleft care in their own communities.
My Sister's Keepers Foundation was founded by sisters and co-directors Gyankroma Akufo-Addo, Valerie Obaze and Edwina Akufo-Addo to be an innovative charity that seeks to support initiatives that educate and empower local women so that they can directly and indirectly deliver social impact in their communities. Every year, each co-founder chooses a new project they are passionate about and over a duration of twelve months, they offer a range of events and programs that are designed to inspire and make a difference.
By: Eugene Osafo-Nkansah