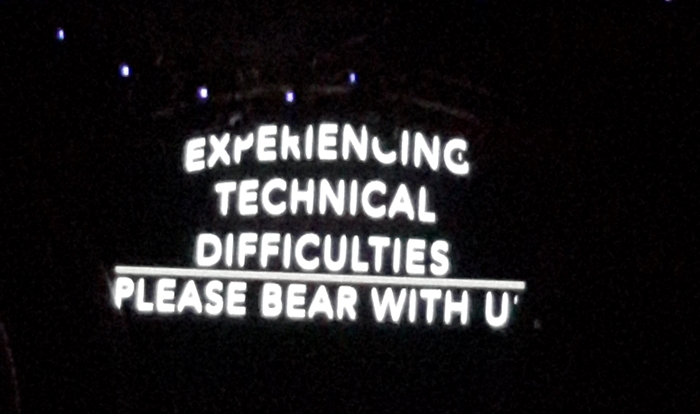 An unfortunate occurrence which almost affected the beauty and flow of the just ended Vodafone Ghana Awards 2017, was power cuts during the event.
Just when the event kicked off an unexpected power cut which reportedly lasted for over 30 minutes halted the event. Organized worked tireless to restore power for the event to commence but when everybody thought the problem had been solved the power tripped again which also lasted for about 20 minutes.
All this while guests, nominees, pressmen, award presenter, performers and other dignitaries were seated in the auditorium waiting patiently for the event to start. Eventually, the 18th edition of the annual Ghana Music Awards which happened on Saturday, April 8, 2017 at the Accra International Conference started a little after 10pm instead of 8pm.
Watch the unfortunate incident and how some pressmen expressed their opinion in the dark.
Meanwhile, organizers of the show, Charterhouse have issued a statement of apology to patrons, sponsors and all those who affect by the blackout.
Read the full statement below:
"The very prestigious 18th Vodafone Ghana Music Awards came off yesterday, as planned at the Accra International Conference Centre.
Unfortunately the event couldn't start at the scheduled time, due to some unprecedented major challenges we faced with the power supply to the conference centre.
The facility could not supply us with stable electricity from ECG and their over 1000KVA standby generator also couldn't stay on for more than 15minutes.
At exactly 8.40pm, just at the strike of the drum for the amazing opening performance by the Accra Symphony Orchestra and Lumina, we suddenly lost all power losing some equipment in the process. The fluctuations that would follow are simply unprecedented and inexplicable.
Regrettably the event started 2 hours later than scheduled; for which we are deeply sorry. From the bottom of our hearts we will like to apologize to all our viewers across Africa on DSTV, GOTV, GhOneTV, TV3, TVAfrica and Joy prime on Multi TV.
The biggest kudos will go to the patrons that came out in their thousands to witness this annual phenomenon and be part of what had been well thought out, well planned and well rehearsed to be a memorable night.
You were simply the best audience ever; considerate, matured and very understanding. We could not thank you enough for your patience and understanding.
We on our part will be engaging with the management of the facility (Conference Centre) to investigate exactly what happened on the night mainly to ensure that it does not happen again. We will share our findings with you.
Despite the very daunting challenges, the show must go on and indeed, it did go on with outstanding performances and award presentations.
Congratulations to all nominees and award winners.
To God be the Glory!
Signed
CharterHouse Productions"
Source: NKONKONSA.com