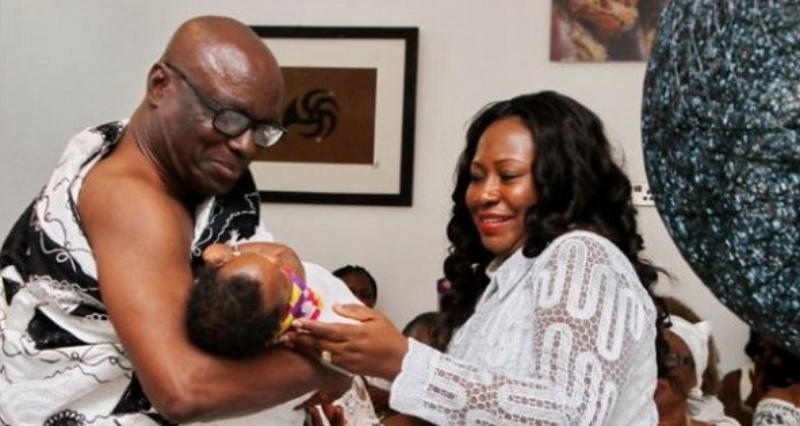 Award winning Broadcast Journalist/Feminist Gifty Anti and her husband Oyekechire Ansah Kwaw – Chief of Adumasa, have officially outdoored their royal baby as tradition demands.
The much-talked about naming ceremony of the baby of Nana Ansah Kwao IV, Chief of Edumasa in the Eastern Region and his wife Gifty Anti took place Sunday October 15, 2017 at Edumasa in the Eastern region.
The ceremony, which started as early as 7am, had both Traditional and Christian elements, was well-attended with some list of dignitaries including former First Lady, Nana Konadu Agyemang Rawlings, satirist Kwaku Sintim Misa (KSM), Becca, Ceccy Twum, Afia, KOD and Mr. George Owusu, former CEO of EO Group.
The programme, which was the first of its kind in the community, witnessed a colourful cultural display, coincided with the two years marriage anniversary celebration.
Gifty Anti carried the baby and sat next to the queen mother Nana Afrakoma till she was called to hand the baby to the Chairman of the Council of Elders to carry on the naming rituals, which was followed by administering of honey, water and wine instructing the baby to uphold truth and integrity throughout her life.
After that, the baby was given back to her mother who passed her on to the Queen mother to decorate her with bracelets, as she performed while speaking words of wisdom and inspiration to her.
Some selected elderly guests were given the opportunity to speak words of inspiration to the newborn baby, which included Nana Konadu Agyemang Rawlings and Mr. George Owusu, bringing the traditional part to an end.
After that, the royal couple was ushered into the ceremonial grounds to begin the Christian naming ceremony and refreshment. Two magnificent cakes donated by Curious Cakes, a subsidiary of EKGS Culinary Institute, were cut to climax both naming ceremony and wedding anniversary.
Source: NKONKONSA.com