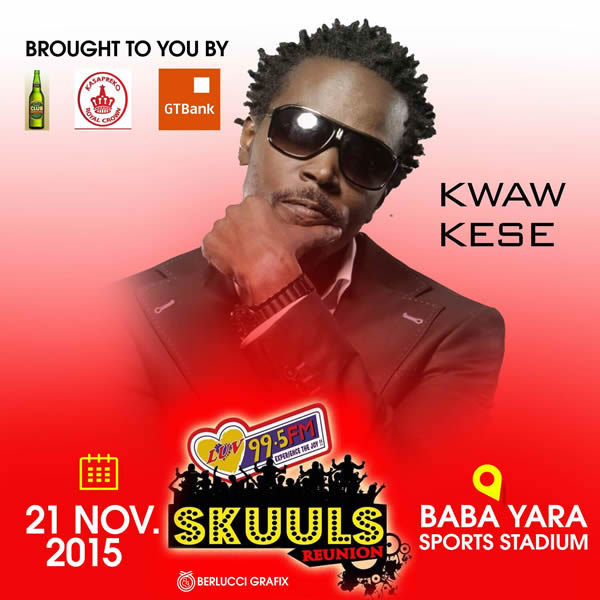 Last year was a very difficult year for Rapper Kwaw Kese.
His manager Fennec Okyere was murdered in cool blood on March 13 and whiles he was still grieving and trying hard to put himself together, he was arrest on November 22 in Kumasi.
History is about to repeat itself and Kwaw Kese has a second change to make things right. The "Massa I Beg" Rapper is about to relive a real life situation that occurred in Kumasi exactly a year ago.
It would be recalled that Kwaw Kese performed on the Luv FM Old Skuuls Reunion at Baba Yara Sports Stadium last year on Saturday November 22. He decided to have a drink with friends after his performance at a spot in Kumasi and he was arrested for the use of narcotics and smoking illegal drug in public.
The "Yabubu" Rapper ended up spending five weeks inside the Kumasi central prisons as a remand prisoner after several court appearances, adjournments, and a loud public outcry for his release. He was official found guilty and sentenced to one day in prison and court further ordered him to pay a fine of GHc1, 200 or in default serve a three year sentence with hard labour.
Interestingly, Kwaw is going back to perform on the same show Luv FM Luv FM Old Skuuls Reunion at the same venue Baba Yara Sports Stadium coming Saturday November 21.
Speaking to Nkonkonsa.com on the interesting coincidence, Kwaw Kese said he is happy going back to the same place exactly a year his after his unforgettable ordeal.
"I feel good that after a year, I am still on top of my game. I feel stronger now because I didn't let what happened bring me down. I thank God for making strong".
Kwaw Kese used the opportunity to thank his fans for supporting him. "I love all my fans especially those in Kumasi for the love and solidarity shown me when I was in trouble and one year on, making me a better person. I owe what I do to them and I won't stop".
Kwaw also added that his fans should expect a great performance because he will celebrate the one year with them on stage.
The Abodam crooner will release a new single 'Ataa Arye' on November 22, a day after his performance and he is also preparing to launch his latest 'Forever' album in December.
Source: NKONKONSA.com